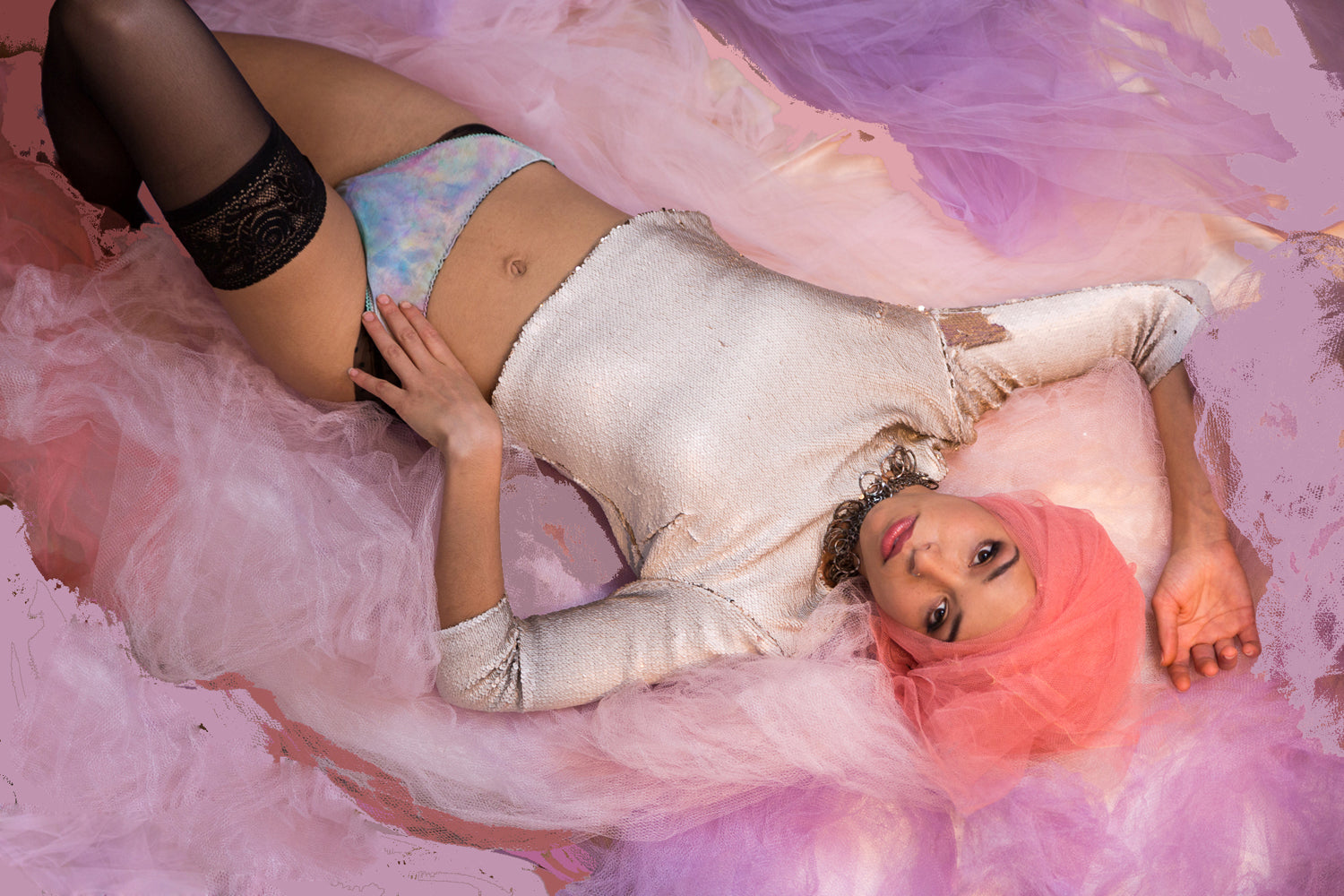 ARTbutt; sustainability + design with anya ferring

ARTbutt is a clothing and textile art project exploring elements of slow fashion and couture techniques, often through the unexpectedly versatile medium of underwear. we catch up with designer anya ferring who implements a zero-waste principle for her brand. even though the name may be cheeky, anya takes the design, sourcing and production of her line very seriously. 
ARTbutt is essential nonsense…nonsense made into essentials, for the essential art of expression. it's not a means to an end, but means for your end.
what inspired you to start ARTbutt?
a couple of years back i found myself out at the rockaways, right before the winter with only a few suitcases and a very simplified version of my sewing studio. as a lifelong swimmer and aspiring surfer, i had come to be closer to the ocean, but also in hopes that i would be more creatively activated out in my isolated beach shack than i had been in brooklyn. that winter i gave myself the goal to create something out of the hand-dyed fabrics my friends and i made for my birthday that summer. holding up the small squares of fabric and looking around my "studio," i decided i could probably make a decent pair of wacky underwear... 
my professional day job at consulting other fashion brands on their domestic production requires scalability and consistency. i was looking for a more creative outlet, so i decided i would design from a different perspective; approaching each style as an individual art object rather than a commercial fashion product.  from there i eventually segued into making a commercial product, taking inspiration from some of my original "art underwear" by cherry-picking certain qualities i liked in form, fit, and fabrics and translating them into marketable designs that i could take to production.
how did you come up with the name ARTbutt?
when i was a kid i loved miniatures and making tiny things, and often sculpted small objects out of clay.  some years ago i happened upon the medium again and without any intention immediately sculpted a tiny human bottom. it was a bit rough and silly looking, but you could tell it was a butt. my friends and i decided we'd call it an art butt, 'cause you know…"art."  

from then on i would make a few every now and then and hand them out at special occasions, and they became known as ARTbutts. there was even one christmas holiday party where we had a particularly competitive white elephant that all revolved around who would get the ARTbutt!  when i started making my own clothing, i also happened to be focused on items you wear on your butt, like lingerie and swimwear, that also happened to by quite…artsy-looking. so the name seemed to be waiting for me all along! i did have a few reservations in the beginning about starting a serious business with such a flippant name, but there was so much about it that described everything i wanted to convey in a brand: something creative, something unique, something with humor. i've also noticed that people are delighted when they hear the brand is called ARTbutt, i think it's a bit unexpected and who doesn't enjoy a little humorous surprise every now and then! at the very least it's not forgettable!

what kind of ethics do you believe in following while working in fashion? 
repurposed clothing and vintage garments are obviously the most sustainable option in terms of dressing consciously (yay for beacons!) but with some items, like lingerie or swimwear, it's nice to buy new, so i believe there is a need for my product.  
on a personal creative level, i strive to only bring a product to life that i find delightful, fun, and unique. if it doesn't amuse me it's not worth it. (ARTbutt is not a basics brand, if that wasn't already apparent, ha). that being said, i take the construction, form, and fit very seriously for all my products and spend a lot of time wear-testing prototypes before bringing them to market.  
i have personal relationships with all of my vendors, factories, mills, and other suppliers and see them face-to-face on a daily basis.  i source organic, deadstock, or recycled fabrics and cut and sew everything in new york city. the benefits of doing so are not only a smaller carbon footprint, but the ability to have a very hands-on creative process as well.  



what does sustainable fashion mean to you?
i used to work in environmental and human rights nonprofits prior to my career in fashion, so promoting slow fashion and exploring its potential came naturally to me. in fact, it's one of the reasons i decided to start ARTbutt: to have a platform to explore and discuss issues of sustainability within the industry. i have a lot to say about sustainable fashion—for the long-winded versions feel free to check out my blog posts at the ARTbutt.com site—but the simple truth is that the answers to the problems of sustainability, like so many good and complicated questions in life, are not black and white. to be truly sustainable is to be continually questioning, testing, and striving, and above all being transparent about your product.  




ultimately, there is a symbiosis between consumers, brands, and the government. there is already a strong feedback loop between brands and consumers educating and demanding from one another sustainability, and that dialogue has increased significantly over the past years, which is great. what really needs to happen now for any significant impact, however, is policy changes, because it's the big companies and unchecked corporations who are ultimately causing the most damage. all this isn't to say that the collective action of individual consumers and small brands doesn't matter, because they absolutely do! but it's only a first step—the action of the individual is at the beginning of a process that eventually brings awareness to society as a whole, one that will ideally spur policy changes and industry reconfigurations down the line. we have done a great job so far mobilizing the consumer and the brands, now let's get to work on demanding the policy changes that will support these efforts!  



bio pic by tim soter 
editorials by anna yatskevich