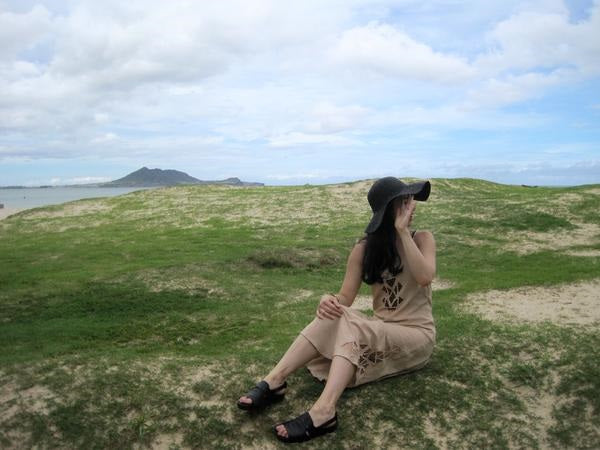 blue hawaii
longtime beacon's manager leah, makes her yearly sojourn home to her hawaiian island where she sails up to sandbars and bathes in the hawaiian sun.
testing the pacific waters from the second of two little boats we rode out into the kane'ohe bay
destination: o'ahu, hawai'i, where i was born and raised. the island is also known as "the gathering place."
purpose of journey: my usual, somewhat-yearly retreat away from nyc to visit with sorely missed family and friends. at the last minute, my trip took on a second purpose and became a whirlwind of wedding planning, as i was proposed to by my boyfriend just three days before i flew out!
never travel without: earplugs for the 10 hour flight.
favorite outfit you packed: nude cleobella midi slip dress with geometric lace details. crushable black straw hat. chunky black elie tahari leather slingback sandals.
how many pairs of shoes: 7
what are you listening to: my ipod decided to stop working the night before i flew out, so nothing! just the sound of the breeze and the birds. i might have listened to some jens lekman, though.
favorite meal: garlic chicken salad at uahi island grill….or furikake chicken plate lunch with mac salad and rice, from kj's local grindz....or mini spam musubis lovingly made by my sister...or our shared birthday bbq at home with family where we feasted on burgers, baked beans, kalbi, grilled pineapple, cake noodle, strawberry trifle and homemade ice cream.
highlight of the trip: being taken out on my brother's friend's boat to chill at the sandbar in the middle of kane'ohe bay. i could only remember going out there one other time when i was a little kid. we anchored down at a secluded spot on the sandbar, which is a mile long, and hopped out with our various floats and inflatable loungers. it was high tide, so with the water reaching our waists it was sort of like being in an infinity pool set in the middle of the pacific! it's truly magical to be able to stand on the sandbar, which is completely surrounded by the ocean, and take in the view of the majestic ko'olau mountains in the distance. once we were satisfied with floating for a while, we climbed back into the boat for some speedy tubing around the bay, and afterward my seven-year-old nephew caught his first fish, a papio.
enjoying the mild weather at kailua beach park

the majestic ko'olau mountain range


hanging with my friend, aly, and felix, the lovable jackson chameleon who lives at aly's shop, mori
some of the stunning mink protea flowers for sale at watanabe floral in honolulu


eating all natural shave ice at the local in kailua, which uses only fruit grown locally in the hawaiian islands to flavor their icy treats


mini spam musubis my sister made to enjoy poolside in 'aiea
cooling off on he'eia kea pier
the neighbors' breadfruit trees towering over my parents' backyard
jacuzzi time!
scoping out the beverage cooler at one of the many abc convenience stores that dot the waikiki strip
colorful hawaiian quilts for sale in waikiki
a serene cove at the privately-owned lanikuhonua estate on o'ahu's west side


feeling like a lady at lanikuhonua