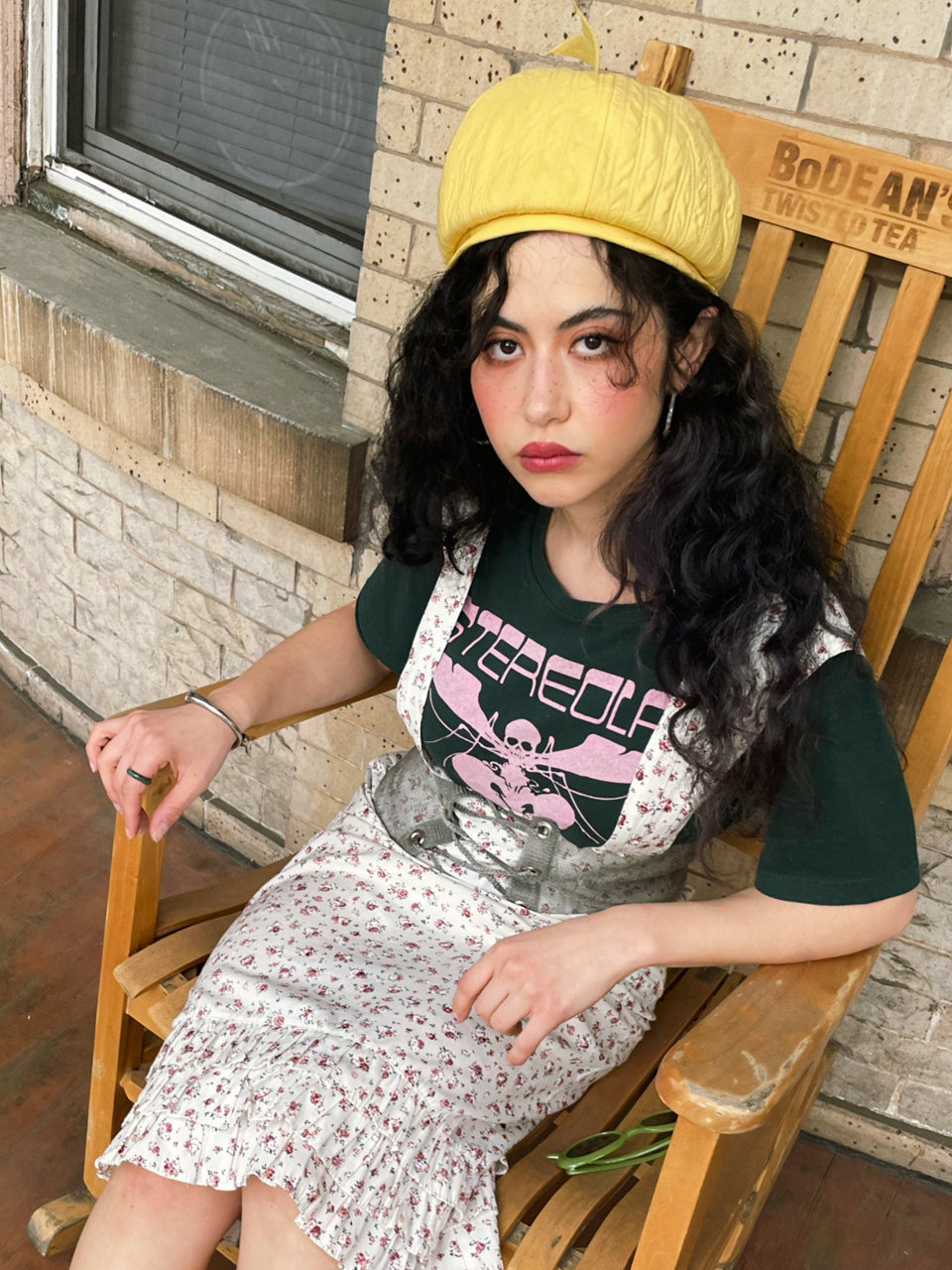 c-note style with allyson
in this shopping budget challenge musician allyson finds the perfect balance and fashions a look for $79.80
describe your style:
ethereal glam chaotic sugarplum dark fairy pop star. it's all about having a perfect balance. when i get ready, i just put things on until it's equal parts perfect and awful.
what was the inspiration behind this look? 
the pinafore first caught my eye, i'm a sucker for ruffles and cutesy pieces. and then i saw the shoes which reminded me of those ann demeulemeester lace-up boots with a john fluevog heel. the look is giving me belle and sebastian music video vibes.
what meaning do clothes have for you?
i like to wear clothes that make me feel powerful. i wrote a song that's on our new album called x-ray vision where i refer to clothing as armor. i like to wear pieces that give me power and make me feel confident.
how did you first get interested in clothes? 
i would go thrifting with my mom regularly when i was younger so it was fun for me to hunt for things that looked like what i would see in magazines i was reading at the time like nylon and teen vogue.
what's your strategy when shopping at beacons? 
i always look at shoes first, because it's the easiest way to elevate a look. i specifically look for comfy ones with some height which are hard to find. then i look at dresses, tops, and bottoms in that order. overall, i like to buy things i know i could sell back at beacons. i try to avoid overly trendy pieces and fast fashion brands and instead go for vintage or designer.
spring step l'artiste shoes $34.95 / vintage frank olive new york hat $15.95 / vintage or handmade pinafore $15.95 / sunglasses $12.95 
total spent: $79.80



debut album, "no fun," dropping on may 20th with dino records featuring 2 singles, "
yesterday's toy
" and "
good on you
" streaming now