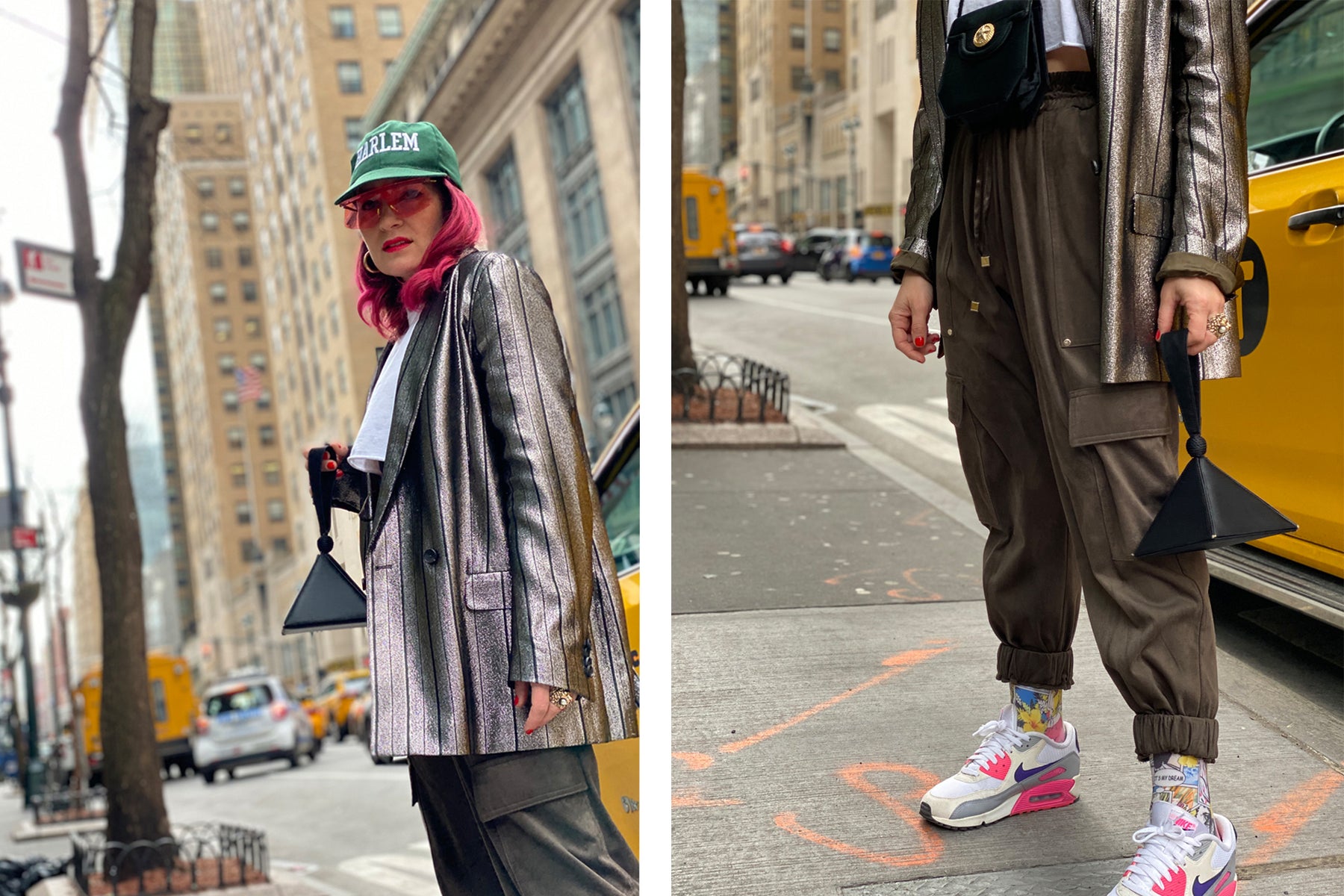 c-note style with veronica spadaro


in this shopping budget challenge wardrobe and costume designer veronica spadaro dresses according to her mood - as a gemini that's a lot of looks!


describe your style..  
my style is very eclectic, it varies a lot according to my mood. and as a gemini i have many moods. but it is always quite sporty but feminine, with a vintage touch and injected with pop energy. i just have to feel comfortable and i like to mix contrasting elements in an outfit like wearing faux fur with a gym sweatshirt and lace gloves!

what inspires your style?
as a wardrobe stylist and image consultant for advertising, i constantly need inspiration. certainly, the greatest inspiration comes from the fusion of art, photography, cinematography and obviously nyc. 
  
what was the inspiration behind this look? 
the iconic inherently glam 80s manhattan. i absolutely loved this paul smith lurex blazer, combined with alcantara cargo pants and this structured pyramid vintage clutch was the perfect accessory. captured in harlem.

earliest fashion memory?  
i was really inspired by my mom's sense of style and femininity. ill never forget my first polka dot suit of clothes and the coordinated hairband that she purchased specifically for my sixth birthday in an elegant italian boutique in caracas, where i was born. growing up i wanted to turn my passion for the beauty of fashion into a real job.


what's your strategy when shopping at beacons? 
the very first time i visited beacon's closet, as vintage coolhunter, i was delighted with the quantity and above all the quality of vintage to admire. my strategy when shopping at beacons is very simple..make a selection of pieces and colors that i would like to wear and give space to the imagination by making an accurate fitting with various combinations. in this dream place, there are endless options!
paul smith blazer: $74.95 / pyramid clutch $17.95 / harlem hat $8.95 / bob mackie neck bag $16.95

total spent $118.80