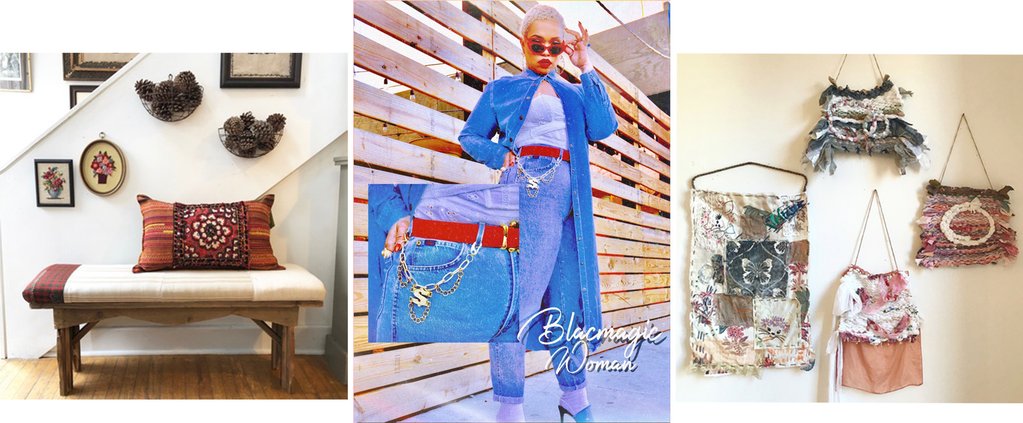 creative reuse
 
in honor of earth day we celebrate some of our friends who are creatively reusing old or discarded materials to invent new and beautiful things!
elizabeth sanzari
fiber artist elizabeth sanzari creates all her work from vintage materials or discarded fabrics. she makes wall hangings, pillows, curtains, and other experimental pieces. by using scraps her work has very little environmental impact. recently, she collaborated with a small business called the junkyard co.

elizabethsanzari.com
@elizsylvia

jarae holieway
bringing a splash of sass to your fashion world jarae reconstructs vintage hardware into versatile pieces to accent your everyday wardrobe. inspired by the gaudy 80's and 90's aesthetic jarae creates accent pieces for you to feel fancy in.
jaraeholieway.com
@blacmagic_woman

money bagz chain w/ pack


"she versace?" chain

   tweety bag chain



alligator chain 



corduroy shop
chrisie at corduroy shop is passionate about mending time-worn textiles and finding a new and bold place for them on chairs, sofas, pillows and occasionally apparel. things get redone, reimagined, reconstructed, ​revitalized and returned to utter glory with a modern sensitivity!
beacon's closet embraces sustainability and ethical business practices. reduce, reuse, recycle; shop second hand. make earth day everyday!