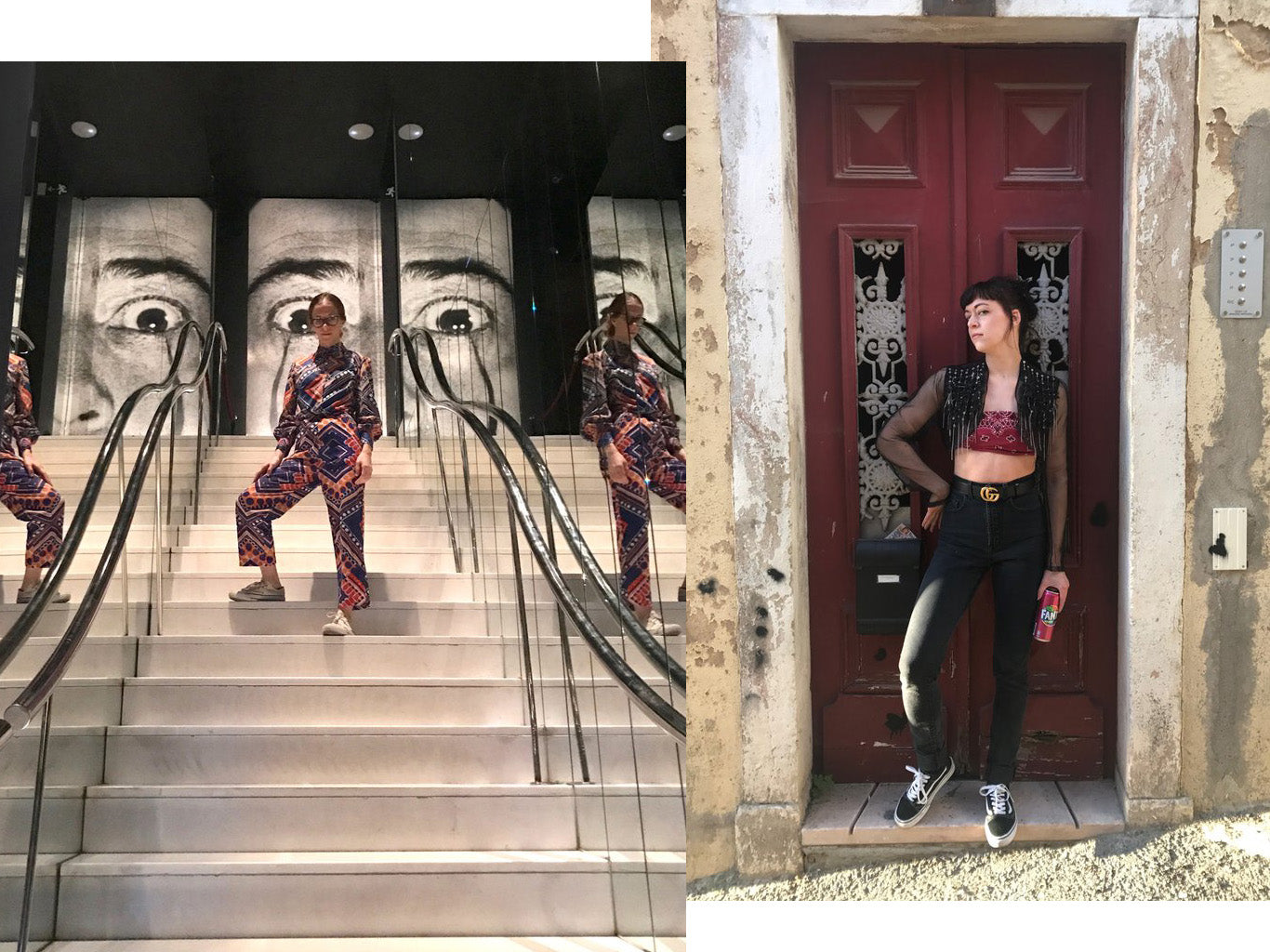 dance with dali
salvador dali museum

buyers julia and liz take on the surreal, the magical, and the melancholy of lisbon and barcelona.


destination: barcelona and lisbon
purpose of journey:
julia: spain and portugal are both mystical, magical places to us. we wanted to go on a sort of fantastic voyage. a big part of the draw was the salvador dali museum where you can visit the artist/mystic's jewelry collection.     
liz: it was also an exciting chance to check out some great flea markets!
never travel without:
julia: one of my crystals. this time i brought rose quartz.
liz: a black cashmere sweater!
favorite outfit you packed:
julia: a 60s silk floral two-piece skirt and top.
liz: my favorite black dress and a sheer black organza noir kei ninomiya chain mesh bolero
how many pairs of shoes:
julia: i wear my white chuck taylors with basically everything.
liz: two! black vans and platform dr martens hiking boots
what were you listening to:
julia: fado, a style of portuguese folk music that's very melancholy but beautiful. we had an opportunity to see it live and i cried!
liz: also a lot of balamii radio programs of friends!
favorite meal:
julia: ramiro is one of the best restaurants in town and specializes in seafood. crabs, mussels, jumbo prawns-we ate like kings for about 20 bucks a person. portugal is very affordable.
liz: casa do campo, a small cafe on the street we were staying was incredible. the owners were so friendly and the daily specials were amazing! they also serve espresso made from cape verde coffee beans which are considered one of the best in the world and served by michelin star restaurants!  it was my final meal before catching a ride to the airport for a reason!!
highlight of the trip:
julia: the dali jewels were even better than we dreamed. my favorite was the mechanical beating heart brooch. if you want to learn more, i wrote about the jewels on my blog. 
liz: meeting people and making new friends from all over the world, whether it was in a skate dive bar in the raval in barcelona or savage, the underground punk club in lisbon.


mouth brooch at the salvadore dali museum


mechanical beating heart brooch by dali (it really beats!)


salvador dali museum


book store in lisbon
lisbon


lisbon
fado record from fiera da ladra flea market


romantic doorways


beachfront in lisbon



follow @houseofpop & @lizlizlizlizz