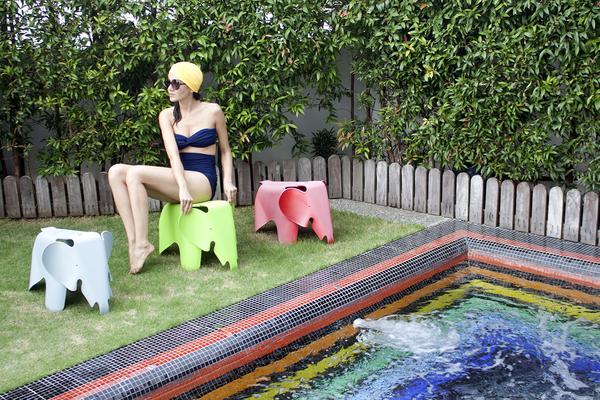 east asian escape
aisha travels back to her homeland of malaysia to visit with loved ones and feast on her favorite foods. her style blends harmoniously with the landscape, but the monkeys really complete this postcard picture. view the vistas, below.


wanderlust hotel, singapore

destination: singapore, kuala lumpur, pulau perhentian (respite island), and seoul
purpose of journey: connecting with family, old friends and eating the best food in the world! the whole trip was initiated by my brother back in texas; he wanted to propose to his woman in malaysia where we grew up.  
never travel without: sunglasses, a sarong, book, wet wipes, chapstick, moisturizer and sunscreen  
favorite outfit you packed: the blue/grey, poppy print, kenzo jeans *thanks ibi* with a handwoven shirt by lem lem. tom ford sunglasses. adidas slides
how many pairs of shoes: three; all were easy to slip on and off; which you do every time you enter someone's house: zara double strap, flat, black sandals, vagabond platform sandals, and striped adidas slides.
what are you listening to: on our 7 hour road trip back to KL from perhentian. i remember listening to an orang asli (malaysia's original/indigenous people) radio station, it was so cool, on one song, we sang the chorus "crying because of a flood" to the best of our abilities. the k pop in seoul was a trip as well.
favorite meal: this is hard as there were so many but i think it is a toss up between chilli crab and banana leaf. the latter is south indian grub, traditionally vegetarian, served on a banana leaf that's also a disposable plate. it is an assortment of vegetables, curry, papadum, yogurt, and chutney. my mother says she hasn't "arrived" in KL until she's eaten banana leaf. my jidah's (grandmother's) cookies and treats for hari raya are always incredible as well.
highlight of the trip: my brother's really sweet proposal, he got on his knee on our last evening in perhentian. that night three green turtles landed on the beach to lay their eggs. one laid 87 eggs right under the tree next to where he proposed. that same night a nest from two months prior hatched. witnessing the turtle and hatchlings after his proposal, seeing colugos and dusky langurs on the island--it was really special.


our private bay and beach on the southern tip of the big island of perhentian  
alley in little india, singapore
sri veerama kali amman hindu temple, little india, singapore
on top of the sail at marina bay, singapore
petronas twin towers in KL 
wallpaper of vintage ads and packaging, little india, singapore
riding the cable car up to genting highlands
sri nirwana maju banana leaf plate, bangsar KL
long tail macaques
snorkeling the north side of the big island in perhentian
batu caves in kuala lumpur
flower garland stand in front of batu caves in KL
the most utilized things i packed
a traditional batik sarong
strutting on the beach
 love locks at n seoul tower
follow aisha on instagram @morethanlaundry