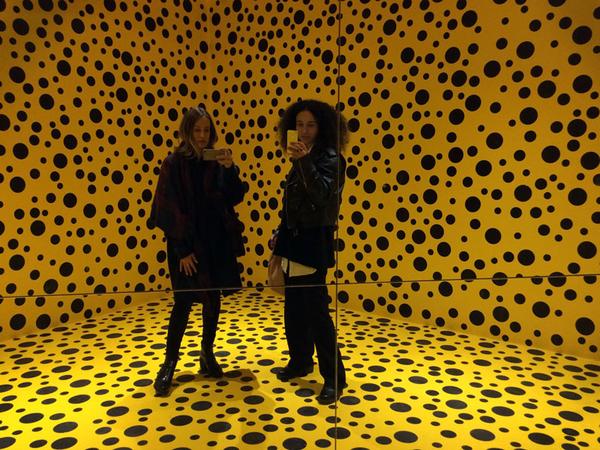 eurotrip
sometimes you just need a change of scenery. sheyla and rachel shake up their new york life and head to europe. traveling from copenhagen to berlin together, they share their adventures and bonding moments. 


"i'm either sick or crazy, but i'm seeing all yellow covered in black dots…" 
yayoi kusama's
destination: sheyla: london, copenhagen and berlin. i met rachel in copenhagen and from there we went to berlin.


purpose of journey: sheyla: the whole idea of this trip came from me feeling like i needed a break from new york. i'm also scouting for the next city id like to move to in a few years. rachel and i talked and she decided to join me and it became this spiritual/soul searching journey. rachel: similarly, i had been feeling like i needed to shake things up a bit. i heard sheyla was going on this trip and i kind of jumped at the opportunity to travel with her. plus berlin! it all happened pretty spontaneously. i bought my ticket three weeks in advance.
never travel without: rachel: a leather jacket and a go-with-the-flow approach. sheyla: my oils. i won't leave my house without my oils. i make my own body oil, face oil and hair oil. i'm very particular about that.
favorite outfit you packed: rachel: high-waisted gaucho pants and a colorful cropped vintage sweater. stylish yet comfy. i packed super light and only brought my favorite things. we would leave in the morning and not get back to our air bnb until late at night so it was important to be warm, comfortable and still look cute. i wore the hell out of a pair of acne leather pants with a white tuxedo stripe down the side. sheyla: my favorite pieces were a brown cape with beautiful fox shoulders, it makes me feel like a warrior princess. a long, velvet, vintage ralph lauren jacket with red silk lining, it makes me feel like a vampire. and lastly my sultry, shiny and incredibly comfortable latex leggings which always makes me feel like im dressed to kill. 


how many pairs of shoes: sheyla: i brought 3. only wore 1 - my doc martens. i overpacked, but oh well…i needed options. rachel: i brought 3 but only wore 1 pair- chunky opening ceremony platforms. the other two weren't weather appropriate, it snowed in berlin! 
what are you listening to: sheyla: that changes constantly. lately i have been listening to a lot of bossa nova. joåo gilberto mainly. i can't get enough. rachel: kelala and christine and the queens lately. there were some really cool female dj's in berlin. shoutout to utopyk jones who took us out for an epic night in kreuzberg. 
favorite meal: rachel: copenhagen is a culinary hot spot and we had a mind blowing six course dinner at a restaurant there called höst. but i gotta say my favorite meal was some good old schnitzel and spaetzle in berlin. sheyla: breakfast is my favorite meal. always and forever. everyday my first meal has to be breakfast and by that i mean eggs with anything else. but always eggs.
highlight of the trip: rachel: traveling with sheyla and coming back with a lifelong friend. also witnessing the badass owner of this gay bar in berlin called roses come out from behind her throne, make a beeline for sheyla, and kiss her straight on the mouth was pretty spectacular. sheyla: don't get me wrong-this entire trip was amazing. we met new and wonderful people, saw so many beautiful places, and had incredibly fun and mind-blowing experiences...but for me, the best part was bonding with rach. we weren't very close when we decided to take this trip together, but that didn't stop us from going. now i feel like she is definitely one of my people. i am so happy and grateful for that.
welcome to our new living roo
m, 
copenhagen
yayoi kusama's exhibition at the louisiana museum in copenhagen
oh, hi! pose you said?
this was even prettier in person, copenhagen
claw cranes. tivoli gardens, copenhagen
follow me to my land of dreams…tivoli gardens
this is tivoli. after a while you are just like "so this is my life now, i live in a gorgeous amusement park surrounded by animals, hot wine and lights…" sheyla
breakfast and postcards in copenhagen
just kicking it in vesterbro, copenhagen
s-train copenhagen, denmark
walking around christiania, copenhagen. known as freetown, a car-free, self-proclaimed, autonomous town founded in 1971 by squatters and artists as a social experiment 

christiania theatre. technically, theres no photography

 allowed in the town…
kvindesmedien. three women started and run this welding shop in christiania
bye copenhagen, hello berlin!
healthy appetite, berlin
discovering this amazing sculpture at the jewish memorial, berlin
our room in berlin
moments after this photo was taken, sheyla bonded with another metro rider over singing bo type by rae sremmurd



berlin wall
berlin welcomes refugees
walking by the canals, berlin
street art, berlin
roses in kreuzberg, berlin. the walls are covered in pink and faux cheetah fur 
faux fur feels
from berlin, with love…