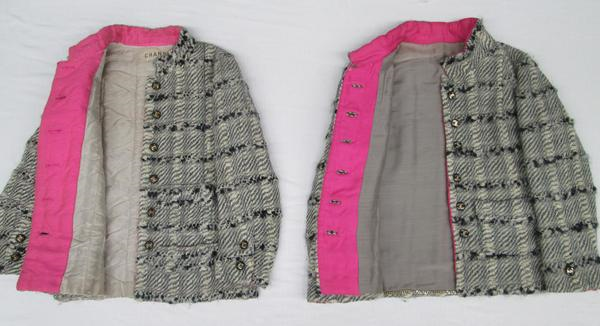 "faking it: originals, copies, and counterfeits" at FIT
left: gabrielle "coco" chanel day suit, 1966 france, 
(wool bouclé) -

gift of eleanor k. graham. 
right
: licensed copy of a chanel day suit,
c.1967 usa, 

(wool bouclé) - gift of ruth l. peskin
did you ever stop to think that the fake chanel in your closet might be endorsed by mademoiselle herself? chanel loved fakes. she wore plastic pearls and used bronzer in winter months, and happily supplied counterfeiters with her very own swatches. because there's no such thing as bad publicity.
meanwhile, madeleine vionette was so fed up with fakes that she stamped her designs with her thumbprint. dior marked his pieces with invisible ink. the counterfeit question has been argued since the dawn of designers.
the fashion institute of technology gallery presents this complicated history of knock offs in "faking it: originals, copies and counterfeits." the expo shows that between licensing agreements, diffusion lines, "inspired by" designs and just plain phonies, it's hard to recognize a fake or even agree on what one is. on display is a moschino cheap and chic suit patterned directly from a roy lichtenstein painting; the logo on a yoshi yamamoto dress looks dangerously similar to louis vuitton's monogram; and then there's the two identical chanels, sitting side by side, made of the same fabric but different construction. these garments are all (at least legally) legit, right? FIT invites you to view these pieces and see for yourself.
as for your knock-off chanel, maybe the fact that it's fake - be it vintage, canal street or just inspired-by - is a fun fashion novelty in it's own right.
original chanel jacket on left, copy on right
unlicensed copy of madeleine vionnet's "little horses" dress, 
c.1925
usa, 

(rayon crepe, black and gold seed beads) 

- gift of mrs. j. mirsky
unauthorized copy of christian dior's "new look" silhouette
nettie rosenstein dress, 1947 usa,  (silk/wool faille, horsehair) -
gift of janet chatfield-taylor


jacques fath for joseph halpert cocktail dress, fall 1952 usa, 
(silk/satin) - museum purchase


licensed copy of pierre balmain's angel evening dress -
created by orcilia in santiago de cuba, 1946-1947 cuba, 
(tulle, feathers)  - gift of molly milbank
label for licensed copy of balmain's angel dress


"borrowed" from the world of fine art , yves saint laurent's
"mondrian" dress, france 1965, (wool/jersey) - 
gift of igor kamlukin from estate of valentina schlee


moschino cheap and chic suit with roy lichtenstein print, italy 1991, (acetate, rayon) - museum purchase


moschino's diffusion line "cheap and chic", italy 1992,
(rayon, crepe) - the museum at FIT


"yy" logo similar to louis vuitton monogram
yohji yamamoto dress, japan 2007, (silk) - museum purchase


catherine malendrino "you can't fake fashion"
ebay x CFDA anti-counterfeit campaign tote, 2013 usa, 
(vinyl, cotton, zipper) - gift of ebay
brian lichtenberg "homiés" ensemble, 2014 usa,
(cotton, polyester, rubber) - gift of brian lichtenberg studio

faking it: originals, copies and counterfeits is on view dec 2nd 2014 - april 25th 2015 at the fashion institute of technology. 
for more info: http://www.fitnyc.edu/22937.asp
written by julia popescu