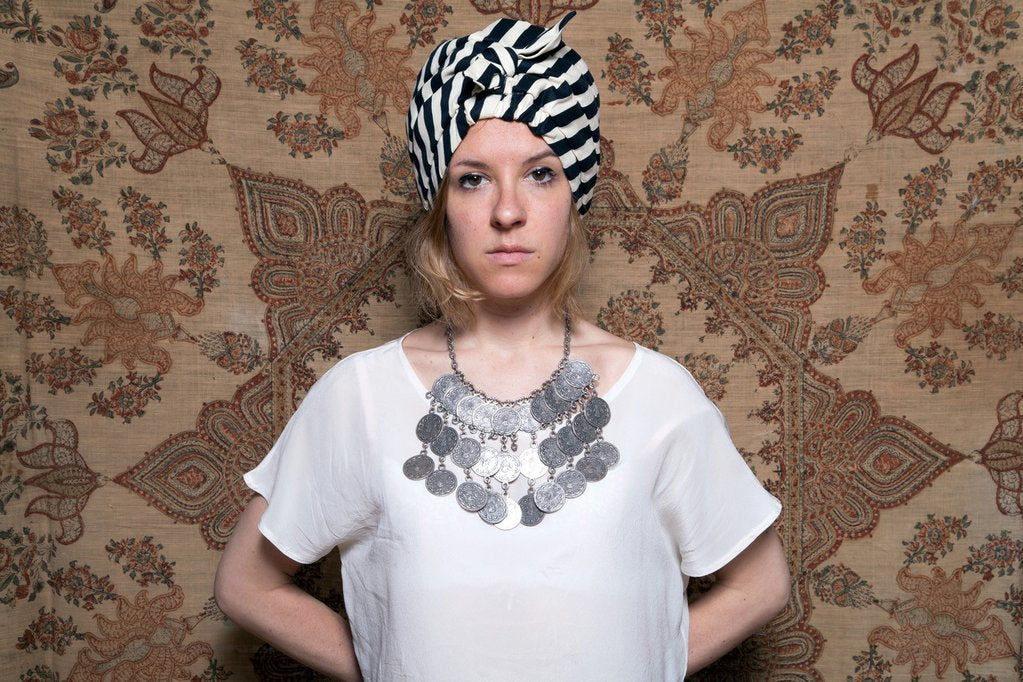 intrepid traveler
found: a bedouin necklace

beacon's buyer and jetsetter, julia, travels to jerusalem and palestine for this edition of road vogue.

destination: israel/palestine
never travel without: a list of all the flea markets and local treasures to look out for.
favorite outfit you packed: i've been living in my vintage norma kamali jumpsuit. it's just so comfortable and versatile-good for flying, hiking, going out and abiding by local customs of dress.
best shopping: there is portside flea market in the original old city of tel aviv where you can find pretty much anything. i brought home two carved brass pyramids.
what are you listening to: anything that takes me to a faraway place in the world/my head. the master musicians at jajouka, acid arab, the traditional moroccan music author paul bowles recorded when he was living in tangiers.
favorite meal: shakshuka is an originally moroccan dish of poached eggs in a tomato, vegetable and spice sauce. you can find it on almost any menu in the region.
favorite moment: i was searching jerusalem's muslim quarter for a good spot to hear the call to prayer when I met an old man outside an antiques shop who beckoned me inside his treasure trove, gave me an informal but uncanny reading on my personality/hopes/dreams, and bestowed on me a jade ring for protection JUST as the call to prayer piped into this shop from the streets. true story! the holy land is SO holy.


the flea market in tel aviv


the great flea market of old tel aviv


streets of tel aviv 


mud body stocking at the dead sea



palestine



hiking wadi qelt in palestine


window shopping for relics in the best shop in jerusalem, at the american colony hotel


the american colony hotel in jerusalem is a landmark hotel with an interesting history. my family has been frequenting it for three generations so it kind of felt like a pilgrimage for me to finally see it for myself.
the family at the american colony, taken by my mom with her brownie camera, 1955 


the energy at western wall at 1:30 am is indescribable. thousands of years worth of devotion. write or speak a prayer into a crack and they say god is on the other side to receive it.




some souvenirs, clockwise: soap from palestine; a glass pomegranate (an important symbol in judaism/israel); a shell necklace; pyramids from the flea; dead sea salt; a vintage book about israel.


arabic graffiti in tel aviv (the smile is a "T" and the eyes are punctuation marks)

for a longer version of the ring story, visit julia's blog, the psychic life of clothes
follow julia @psychiclifeofclothes