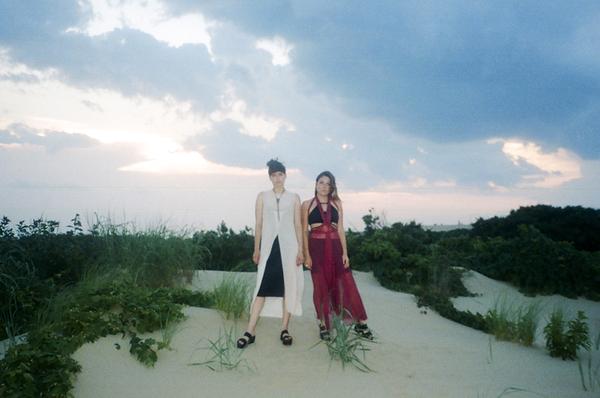 kayaks and aliens
jockey's ridge right before sunset

photographer friends, sarah and jessi from our bushwick store, take us on the road for a serene and surreal trip to nags head.


destination: nags head, north carolina
purpose of journey: july 4th
never travel without:
sarah: camera and coconut oil
jessi: my journal
favorite outfit you packed:
sarah: i was super psyched to wear my vintage pink guess denim overalls, but it was so humid i would have died trying to even put them on. other than that it would have to be this weird red mesh skirt/wrap situation with my chunky black platforms.  
jessi: this crazy denim jumpsuit with a huge belt loaded with grommets with an old keith haring tshirt, i also had my grandma's old fake snakeskin yellow purse.
how many pairs of shoes:
sarah: ended up with a solid 5 (plus the pair i came back with after thrifting for $1.50)
jessi: 3
what are you listening to:
sarah's car doesn't have an aux hookup, so we listened to whatever cds jessi accumulated before she got her first ipod- as well as a few my brother burned for me.
favorite meal:
sarah: the steamed shellfish smorgasbord we feasted on july 4th
jessi: fried clams
highlight of the trip:
sarah: definitely just the house itself. it overlooked the entire sound, and our backyard was literally just water. we went kayaking everyday and once we got too tired, i'd follow that with drinking a glass of wine in the outdoor shower. it was just totally serene and surreal in the best way.
jessi: i got to go in the water every day, sometimes with beer, sometime with kites (we lost all of them). taking outdoor showers right before sunset with the view of the water. it ended up mildly storming almost every night at some point, and right before the winds and rain picked up we'd get to sit at the bottom of the stairs over the water looking at the immense amount of stars while talking about aliens.  
at the ice cream shop


exploring the neighborhood


outside of a thrift store along the beach road


abandoned go-kart track


the neighbor's house



drinking wine in our room


deck of our house before a storm


waiting for the thrift store to open
outside of thrift store 'Hotline Pink'


our favorite thrifting spot


roadside cigarette, firework, and gift shop in virginia
follow jessi and sarah's work: