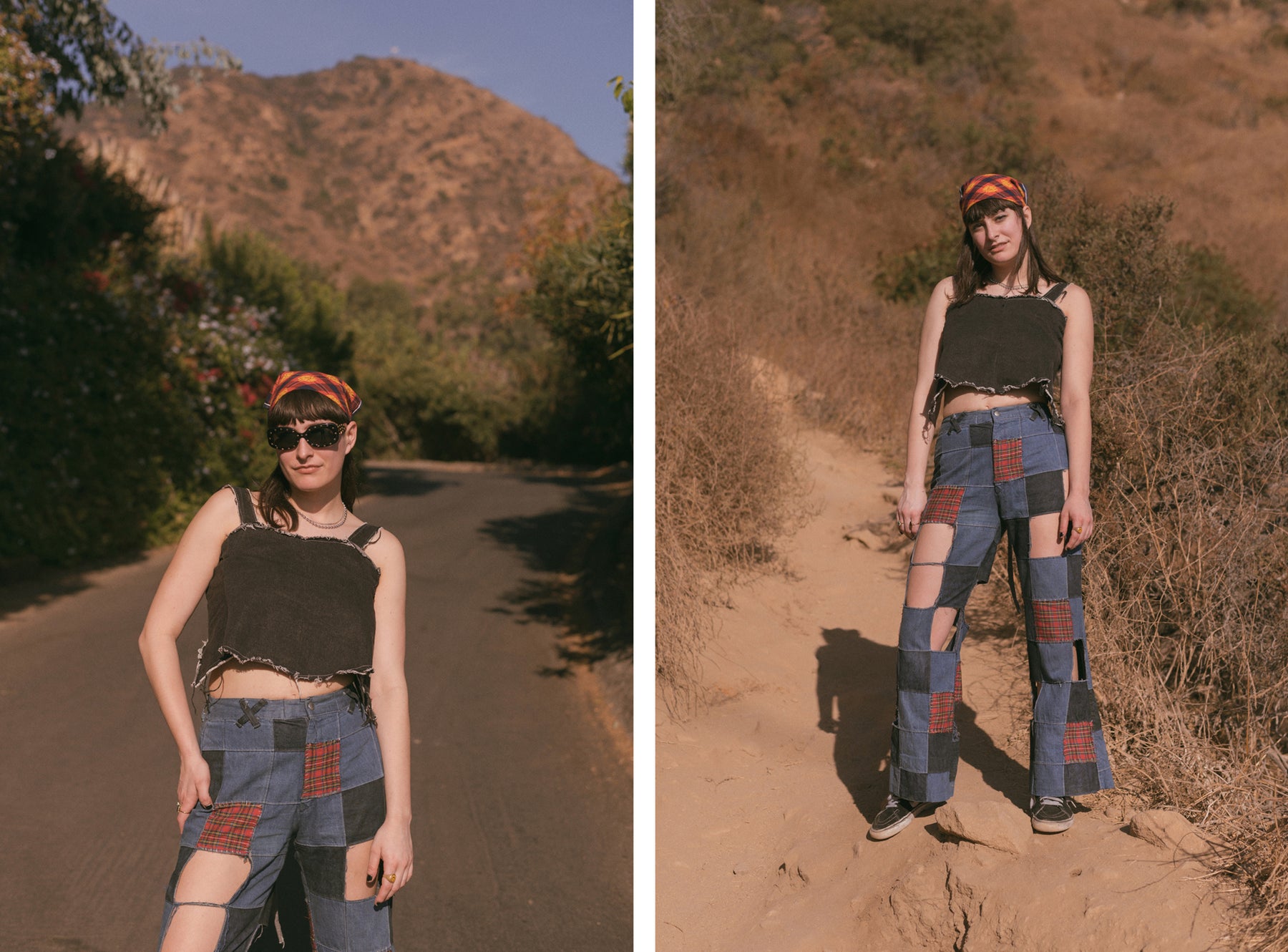 la-la land
 

photographer and bushwick assistant manager jessi journeys west to the city of angels
destination: la
purpose of the journey: went to the music festival camp flog gnaw and to visit my favorite place - venice beach
never travel without my journal, glittery eyeshadow, and my 5mm film camera
a favorite outfit you packed: my plaid patchwork/ cutout denim pants! paired with my vivienne westwood bandanna, denim top, and supreme sunglasses. 
how many pairs of shoes: 5
what were you listening to: doja cat and a whole lot of indie alternative music that i used to listen to in high school, especially foster the people
favorite meal: i got an amazing hotdog for breakfast in malibu- we sat on this rooftop overlooking the water, it was incredible. thanks, brielle for the recommendation! <3
a highlight of the trip:
well every day was incredible, and this isn't necessarily the highlight but i got to see drake get booed off the stage which was pretty wild - but i was cheering him on, it was so sad and awkward but a moment in music history haha





my friend alex picked me up from lax and we immediately drove to venice. we went to a little street market and sampled some pickles. there's something so special about the southern california air in the morning. 

back on venice beach finally <3 a smoggy day but it still looks like heaven! i'm wearing burberry pants, a telfar purse, and nike air maxs 

too early for any skaters just yet. took a stroll down the santa monica pier - a ride on the pier, love a primary color moment :-)
taking a hike to see the hollywood sign! not a cloud in the sky, such beautiful earth tones all around. we found a notebook for hikers to share what they saw! a lot of wildlife, and sadly a log of fires. there was one earlier that morning. wearing my favorite bandanna that was once my good friend andrew neal's! both my pants and top were homemade and obviously found at beacons ;-) don't wear really worn vans because you will absolutely slip and slide:-0

good morning from silverlake! our airbnb had a gorgeous little patio area outside one of the bedrooms. in the mornings we would make coffee and sit out in the sun before going exploring.
malibu!!!

moments before eating the best hotdog of my entire life. afterward, we checked out a vintage store, and i got a cowhide rug for a steal