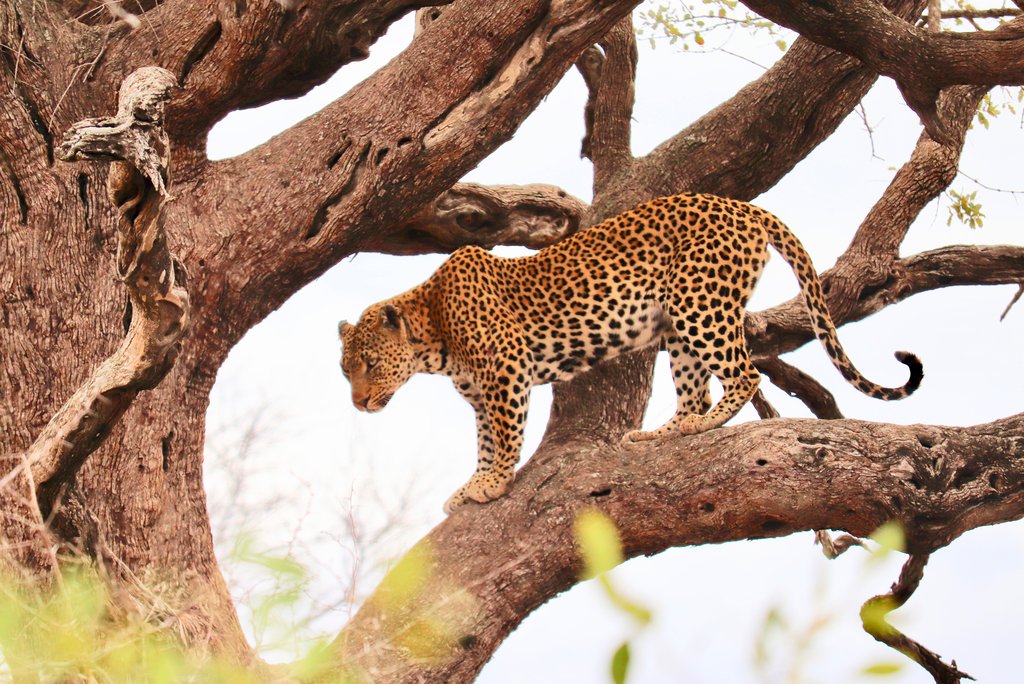 leanna of the jungle


just after 6am and i'm ready to track down some lions, skukuza rest camp


our greenpoint staffer leanna returns to africa to photograph wildlife at kruger national park


destination: kruger national park, south africa
purpose of journey: i had been to south africa a few months prior as an endangered species monitor through the wildlife act. it was such an amazing experience i felt compelled to return on a solo trip to experience more of south africa's wildlife. i spent 30 days in kruger park at 9 rest camps, drove an average of 8 hours a day, and took over 8,000 photos. 
never travel without: my timberland gaiter boots and canon rebel sl2 camera
what was a typical outfit during your trip: vintage tank top, madewell jeans, timberland boots, black and gold vintage belt with metal safari animals, and a vintage silk leopard print scarf
how many pairs of shoes: 3
what were you listening to: i spent the majority of my days driving and didn't listen to music. i wanted to hear the sounds of nature and be fully aware of my environment and any impending danger. in the mornings and at night i listened mostly to the pogues, the damned, the clash, the adicts, the nuns
favorite meal: the only time i had an oven was at biyamiti bush camp, so i made a baked macaroni and cheese. i made seasoned bread crumbs from old hot dog buns and threw in sauteed onions and garlic. it turned out to be the best mac and cheese i've ever had
highlight of the trip: my first leopard sighting in the wild
poaching is on the rise at an alarming rate within kruger national park. especially at risk are rhinos, who are ruthlessly poached for the endless demand of rhino horn in the east. to get involved or donate, visit rhinos.org  or savetherhino.org .
my first leopard sighting. he was more gorgeous than i ever could have imagined 


this guy looks like something straight out of jim henson's creature shop. he is a southern ground hornbill and he is endangered


 scenery from my drive on the s1


a curious elephant chomping some greens, letaba area




foggy sunrise on the way to a morning walk in the open bush


a hyena scores a buffalo leg from a nearby lion kill. way to go, dude!


blending in with the locals on the desolate s129 dirt road


 i did a whole series photographing animals stealing food. this brave monkey made off with a whole loaf of bread snatched from inattentive visitors at the nkuhlu picnic site




these cute local kids danced for passing cars in an attempt to get tips. i gave them a big bag of food and they gave me their best supermodel poses
 
sleepy lions and cautious giraffes, banks of the sabie riverbed


the sunsets were always dramatic and usually a vibrant orange



admiring the view from an overlook off the h10


yellow-billed kite steals a morsel from the grill at tshokwane picnic spot


 

my typical accommodation was a rondavel, or cylindrical african style hut with a straw thatched roof and outdoor kitchen




lion guarding his prized buffalo carcass from lurking vultures


another dramatic sunset


rhinos outside the fence perimeter, berg-en-dal rest camp




there are only an estimated 6,600 wild dogs left in the world. i was lucky enough to have 4 sightings of these beautiful beasts in the berg-en-dal area


zebras in early spring, letaba vicinity


elephant family near biyamiti


 

i wouldn't want to run into this character in a dark alley….


baby cheetah off the s10