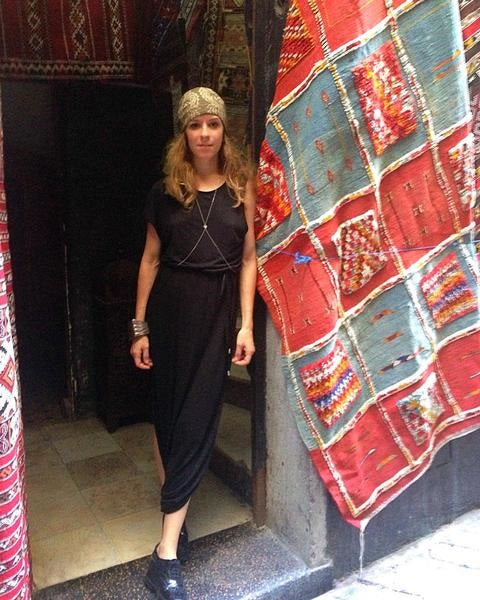 magic carpet ride
beacon's buyer/blogger julia explores the bohemian paradise of tangiers, morocco. she shops the souks and captures their kaleidoscope of colors. see her rock the casbah, below.
carpet-shopping in the casbah
 destination: tangiers, morocco.
purpose of journey: it's been a life-long dream to see tangiers. all my favorites found inspiration here-yves saint laurent, paul bowles, the rolling stones. it's known for being a bit of a salty city, and i love dark corners.
never travel without: an evil eye bracelet that i carry for protection. it wards off any bad vibes. and the evil eye is a common motif in morocco so it's actually very fitting!
favorite outfit you packed: i welcome any opportunity to wear a headscarf so i packed 5 for the occasion of visiting the arabic world, where ladies have to keep covered (lest i get the evil eye!).
how many pairs of shoes: 3. platform robert clergeries and nikes go with everything. but my platform slip-ons didn't make a single appearance.  not good for negotiating the steep hills of the casbah.
favorite souvenir: i'd always wanted a piece of vintage berber jewelry. i found a really special headpiece from the 60s, and though i can't imagine an occasion i'll have to wear it, i love it and it fills me with joy.
what are you listening to: the guest house had antique radios in every room all tuned in to a german station that played colonial-era jazz and blues. all the sights, sounds and smells in tangiers make you feel like life isn't all that different from 70 years ago.
favorite meal: tagine, a slow-cooked stew that i ate every day, everywhere. it's the national dish.
highlight of the trip: i was looking for a place to eat when i accidentally ended up at the one restaurant in the whole city on my to-do list. a little seafood joint with like 10 names run by this sweet and eccentric moroccan man (the saveur de poisson, or restaurant populare, or popeye's, to name a few.) the food was amazing but the best part was at the end of our feast "popeye" wordlessly beckoned me to the back room. i followed him to the back where at once he thrust over my head a vintage 60s caftan. i'll never know why he bestowed such a special gift to me-maybe he spotted me as a fashionista? or was concerned i wasn't dressed modestly enough? anyway, it was the perfect memento for my magical time in morocco.

traditional shoes in updated prints

chefchaouen, an all-blue mountain town a few hours outside tangiers. nick-named "the blue pearl" in yogic tradition, kundelini practictioners in a deep meditation may experience a vision of the blue pearl when their third eye is open



view of the sea of gibraltar from the guest house



wall hangings line the inside of an antique shop



powdered dyes



that sky! no filter



a shop in the souk



behold, my new hand-loomed throw



a shop in chefchaouen



inside the guesthouse. that's a bird in a birdcage in the corner



my new caftan, care of popeye



the second time some local tried to dress me



cats are everywhere and so are enticing tapestries



chefchaouen



whew! reclining on my new hand-loomed throw after a long day in the souks



la vie en tangiers



palace garden



my first piece of berber jewelry! the headpiece



my new purse (or wall hanging, more likely) with an evil eye inlay

follow julia on instagram @jpop17