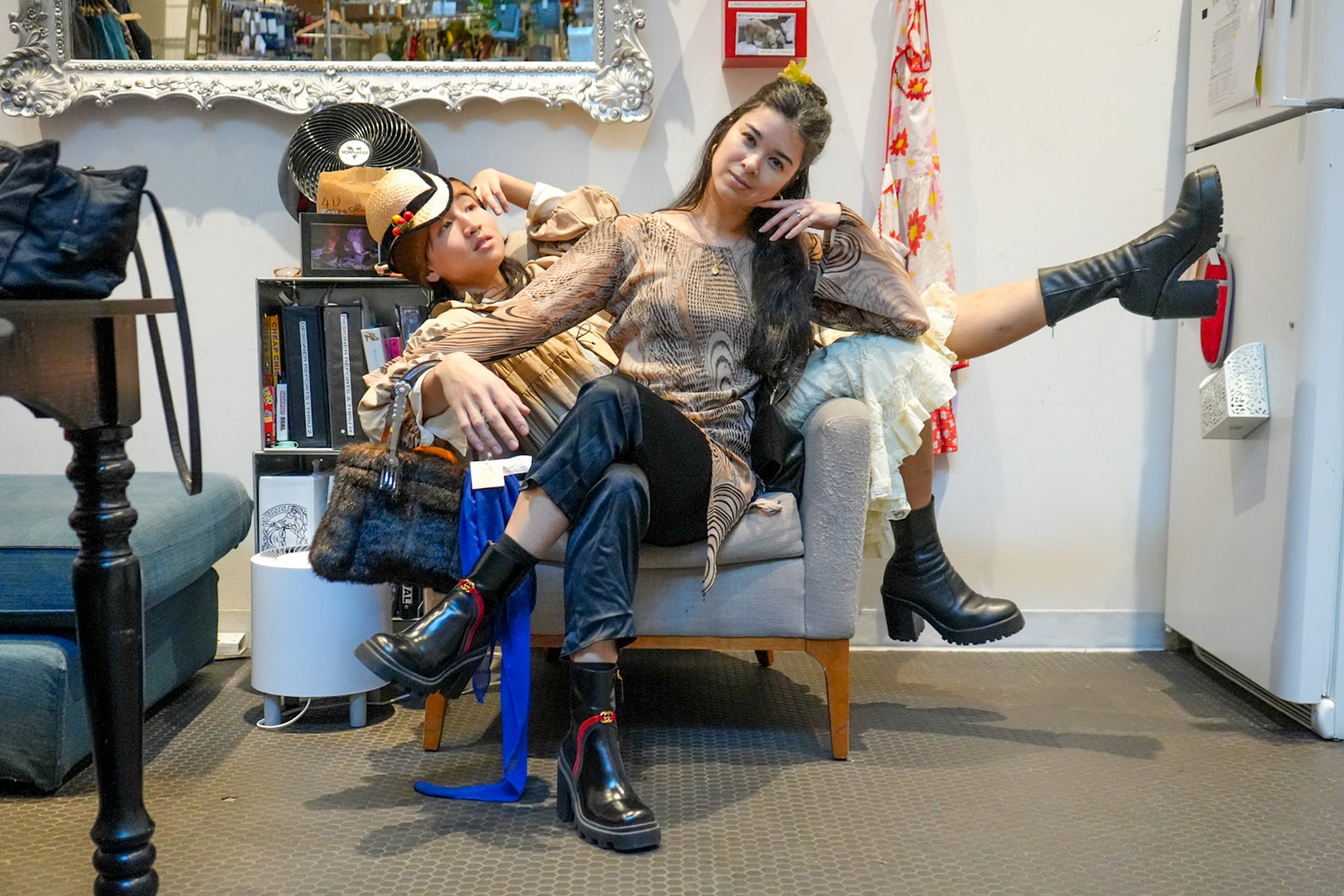 personal style: coveteur x greenpoint

coveteur visited our greenpoint location and captured beaconeer's in their workwear

"this is a thom browne tie. i guess i was kind of building around the tie because i got this here the other day. it was like $12 with my discount so i'm like balling right now. i really wanted to wear the tie in some way so i was like let me just do a thom browne-esque inspired fit. i threw a skirt over some pants with a vintage blazer. at the top, experimental at the bottom. boots to throw it all together. and here we are." —elijah quebrada

"i take a lot of my inspiration from my coworkers. just being in this atmosphere, i see what they're wearing and i'll pick little things up from the store. the night before work, i'll [think about[ what i'm feeling, how i want to do my hair, just how i want to express myself in the moment." —allayah lane
"this is basically what i wear everyday. i have a cubby in my closet that is my work uniform, comfortable clothes. i have a kid, i have this job. comfort is a priority. these are the pants i wore yesterday. these are the shoes i wore yesterday. this shirt is in the rotation of t-shirts that i throw on. i feel like i'm one of the more low-key dressers at beacon's but then i remember that my pajamas are also a look. it's a great pleasure of my life to come to work and see what everybody's wearing and be able to play in the closet and just have the beautiful ephemera constantly passing through my fingertips. i've worked here for fourteen years so it's one of the main things that keeps me here." —caroline yes
"this morning, i accepted that i was going to be late because it was one of those days where i could not find anything to wear. sometimes you've just got to stick with it and you'll find something. these pants i wore this past week and i really like them so i was like why not do it again? the jacket was a no-brainer. i actually had to do my makeup in the bathroom at work today. so i just kind of sketched that on. i had some lip gloss in my bag, thank god." —chris aynalem
"working here, i'm always finding new things, where i'm like, 'wow, this really fits my darker side or my more colorful side.' it's so freeing. i can play into so many different roles of my personality." —francheska baker
"we work in retail so we're very aware of what fashion can and can't do. you can play up the fantasy [aspect] as much as you want and really discover yourself and your style. or you can come to work and be like, 'i just want to do my job, i want to be comfortable.' but for the most part, getting dressed for work, i don't think too much about it." —thanh bui
"i love it because i can literally wear my pajamas or i can dress up as fancy or as crazy as i want to and it doesn't matter as long as i'm comfortable. and i love that about seeing what everybody else puts together, too. there's no judgment. we all just do what we do."—leah giampietro
"i'm a buyer so i look through the clothes and i price them depending on the style and the season. i get to dig through treasure. i've worked other jobs before and i've never really been able to be free in what i wear. and that changes your mood so much when you have that freedom and you look forward to getting dressed for work." —alyse leah
"basically, my clothing is meant to make me feel powerful and strong. that's what my vision is when i get ready in the morning. i want to be exactly who i am because you can totally just be transparent about who you are here. it's encouraged to be who you are here." —savanah harris
"working here becomes a challenge sometimes only because there comes a time where you see so much and you want to indulge but you have to pull back a little bit because it can be a little too much sometimes. but it is fun overall. you come across amazing finds. as much as i get, i always like to constantly sell back. and i save a lot of money."—shanice hyman
"the necklace is a chanel costume pendant. i would say it's probably from the '50s or '60s. the pearl fell off immediately; i put it back on with nail glue. someone here thought it was fake or something just because it doesn't look refined. i got it on this rotted-ass chain—it was 20 bucks—and then i put it on a new [chain]. i get a ton of compliments on it. i just think it's a really beautiful piece."—lucyana randall
"i don't like being uncomfortable at all. i will lose my mind. if i wear something that's uncomfortable to work i will buy something so i can change because i can't focus. it's nice to be able to pick how you want to dress that day—you can try something new out or you can wear your pajamas."—plum thorne
"i've been working here for about two years. i collect every pair of true religion pants that i see here. i took them all apart and stitched them back together. i am a tailor on the side and i know how to sew. so this is the perfect spot to be in to imagine so many things. these [pants] are one of my imaginations that i've been working on for two years."—denzel saunders
"usually, it takes me a long time to get dressed because i want to see every option that i have. i try to never wear the same thing more than a handful of times just because i love to explore how clothing can be worn but then also how clothing
isn't
meant to be worn—and then make it work for me. so it took me like an hour and a half to get dressed today."
—ben swanson
"this is my orange medium-sized telfar bag. i got it on ssense in 2020. i tried to keep it in pristine condition but i used it so much it got really beat up. i'm also a poet so one day i was on the train and i had a couple notebooks with me but none of them seemed like the right vibe for what i wanted to write. i had my pen in my hand and then i looked at my bag and just started writing [on it]. it's been a fun thing i've kept going for a little under a year now. so there's a lot of different poems from different stages [of my life] and then my favorite latin poem as well which at this point has almost worn off but i'll rewrite it because it means a lot to me."—joshua chatman
"this is what i felt comfortable in this morning. i base what i wear on how i'm feeling that day."
—jessenia cantillo
"my sweater is theory. the makeshift skirt underneath is actually an ann demeulemeester tank top that i cut. pants are marc jacobs. [this morning,] i tried on like four different outfits, freaked out, ate a croissant, finished my outfit, and then came here. it took a village."
—trey hemmings
photos: sarah lou kiernan