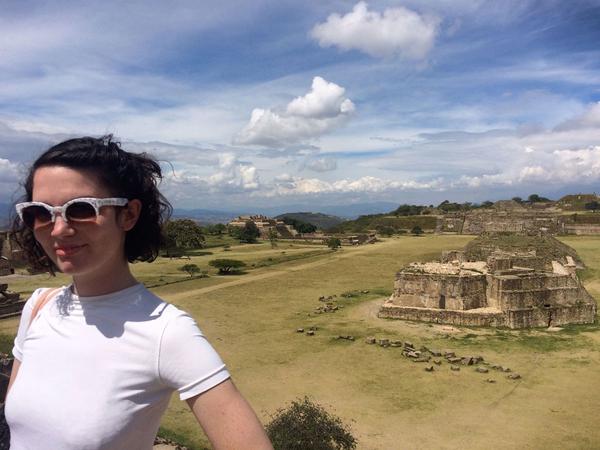 send me a postcard
in playful vintage prints, bushwick employee, alta, explores secret gardens, graveyards, and the ancient ruins of southwestern mexico.
monte alban. ancient ruins, very cool
destination: oaxaca city and a beach trip to san agustinillo.

purpose of journey: shane's (early) 30th birthday and dia de los muertos.
never travel without: a nail file. my nails break all the time.
favorite outfit you packed: this vintage dress that has a pin-up girl print and little phrases written on it like "the hotel has a pool, don't forget your swimming suit!" and "send me a postcard." that dress, with my red sunglasses, aqua espadrilles and pink purse-that was my favorite outfit i packed.  
how many pairs of shoes: i packed 4 and came back with two. my favorite white high top superga sneakers with side zippers did not survive a crazy rainstorm at the beach, sadly. and i had a fight with my white slides and decided to throw them into the trash (blisters).
what are you listening to: podcasts podcasts podcasts! the interview of julie andrews by alec baldwin on here's the thing had me in tears because she is the greatest, and start-up, a podcast about what it's really like to start a business from the ground up. it's very interesting and informative.
favorite meal: oaxaca is the culinary capital of mexico. there is no shortage of amazing food everywhere. i love tacos and we were surrounded by them! but actually my favorite meal was in san agustinillo. an argentine man set up a little restaurant where he served about 6 different kinds of empanadas and they were so out-of-this world delicious. i will be dreaming about them!
highlight of the trip: we had a tour of a lagoon in ventanillo. they are famous for crocodiles and sea turtles but they have other wildlife on a nature preserve on an island in the middle of the lagoon. that is where we met a spider monkey. he and some other animals there had been rescued from mexican drug lords who were keeping them as pets!


beautiful day of the dead sand art




all of the children pair up in scary costumes and pretend to kill each other for money or candy, I love it!




konexion record store. they were closed but invited us in for mezcal and oaxaca cheese. they were the best!




the parade of santa maria, it starts at the cathedral and leads to the graveyard




santo domingo cathedral




the graveyard beautifully decorated for day of the dead




the first night of the day of the dead is dedicated to children, its dia de los angelitos and there is a carnival set up all around the graveyard. fun fun fun 




street style! standing at a window into the secret garden of santo domingo




inside santo domingo!




inside santo domingo, the colors are amazing. so much pink and gold!




taking a picture of my legs in san augistinillo, love that blue water




crocodile art in downtown oaxaca city




more monte alban, ancient stairs!




oaxaca is for lovers




my favorite part of the trip! meeting this spider monkey, he had a lot of personality, we named him ross.




follow alta on instagram @altajfinn