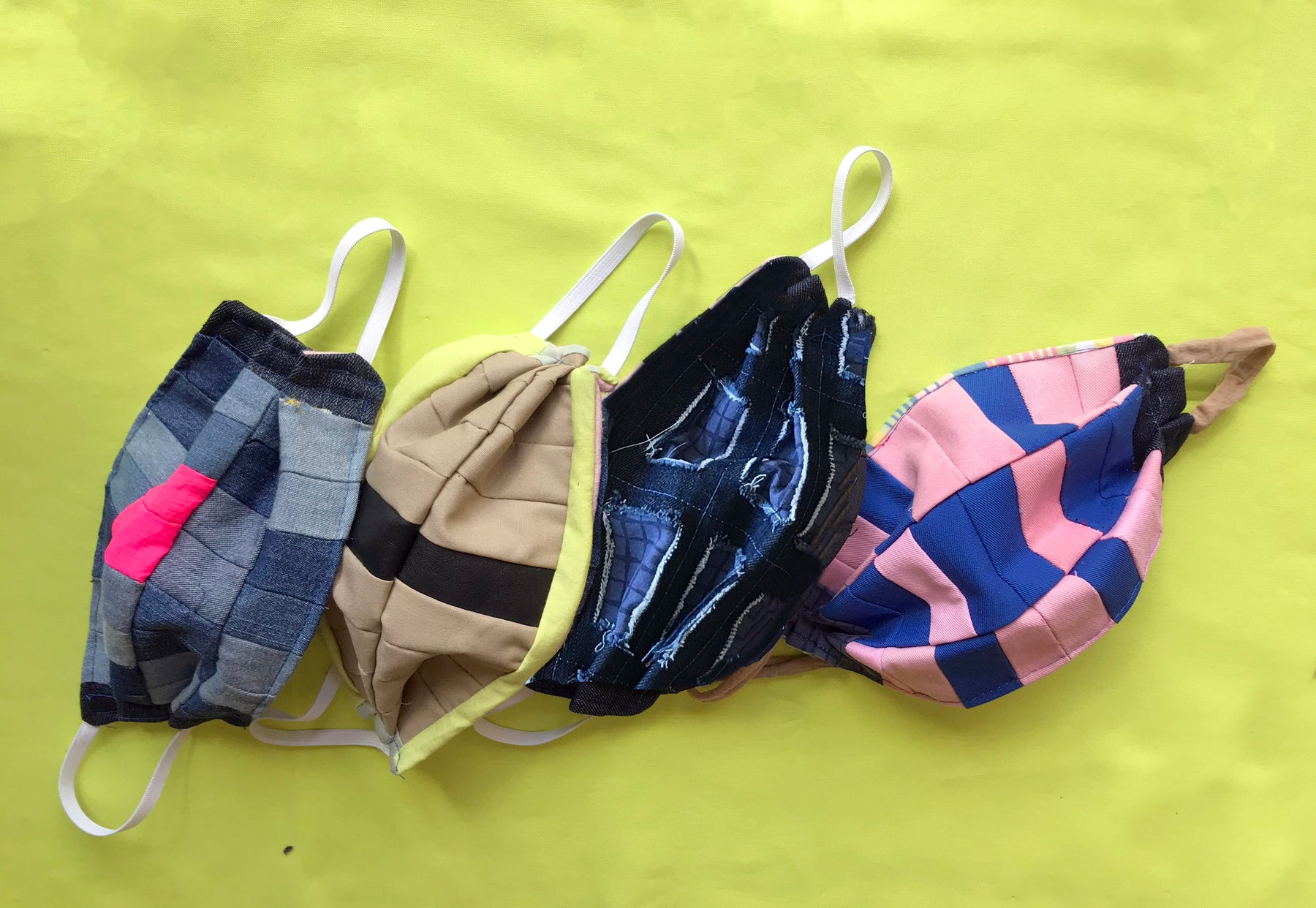 studio hh masks x beacon's closet
hannah hiaasen in a mask of their own making for studio hh
what are you listening to? 
let's paint the picture first. i am listening to "night shift" by the commodores on repeat. can't stop, won't stop.
what are you wearing? 

i am wearing chartreuse work pants i dyed in my bathtub the other day, a chartreuse plaid button up underneath a pink tee that says "i need space, i need time" on the front and "give me space, give me time" on the back by nicole killian.  this shirt sums up my pre and current quarantine life perfectly. chartreuse has healing powers for me. i'm letting its brightness carry me through. 
what is your story? 
about a month into quarantine, i started making masks from scraps of fabric i had collected from a project called ventilated workwear.  about five years ago, i started ventilating workwear by cutting grids from pre-existing articles of protective work clothing.


students from a ventilated workwear talk at moore college of art and design, philadelphia. just love em
hand made masks for sale now on beaconscloset.com



what motivated you to make these amazing masks? 


ventilated workwear
was a conceptual line of clothing to increase the visibility of the individual worker: coveralls covering less, as well as a symbol of queer visibility. at this time, i can't make that work right now.
these masks are made from square scraps of dickie coveralls, button ups, leather pants, jeans and samples from that time. from uncovering of the body to covering back up. 


ventilated workwear by studio hh
how are you involved with the charities you've chosen to partner with for this project?
with each purchase of a mask, i am making another one to send to the navajo nation. a friend of mine passed along an article entailing that the navajo nation has lost more people to covid-19 than 3 states. as someone living on stolen land, i feel indebted to help.
20% of proceeds of these masks will go to covid bail out nyc. rikers island has the highest rate of infection in the world. there is always more to say on this subject but, in the simplest terms, going to prison shouldn't be a death sentence. 
hannah hiaasen is an artist living, working, and ventilating in nyc. follow @studio.hh