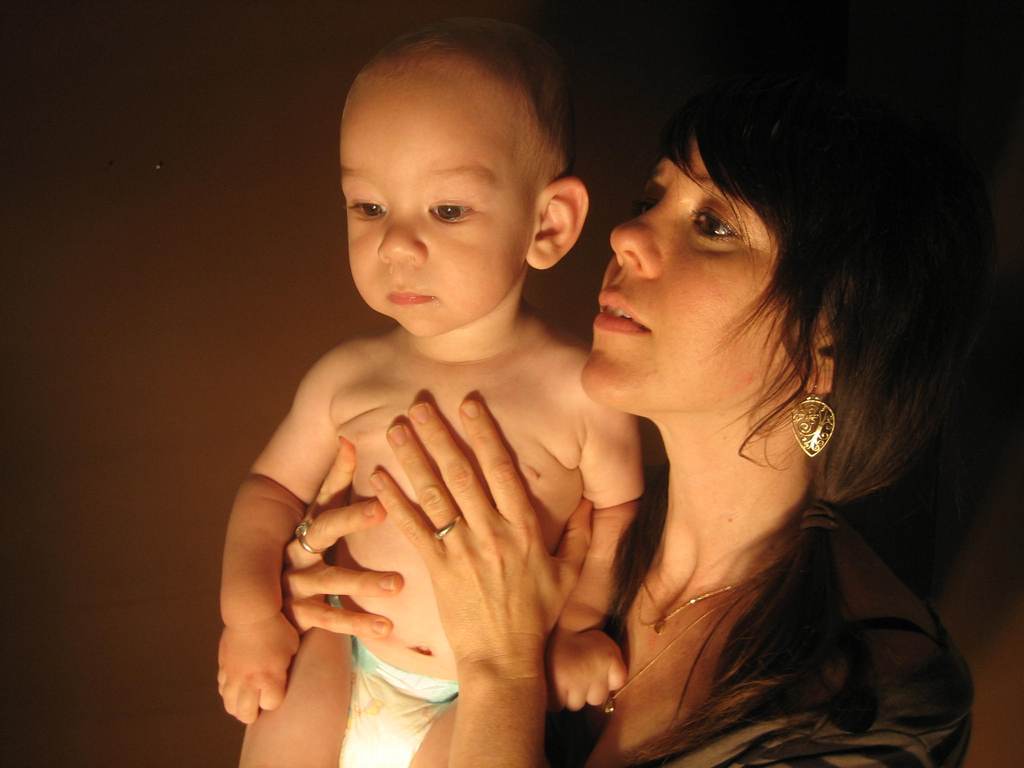 The Slow Burn of Becoming a Fragile X Parent


The Slow Burn of Becoming a Fragile X Parent
by Carrie Peterson, President and Founder of Beacon's Closet, and Community Support Network Leader of The Greater NYC chapter of  the National Fragile X Foundation



At the time this photo was taken, I didn't realize that my baby had an intellectual disability that would drastically impact his life.  It would be about 3 months later that I got his diagnosis.  
When I got the news, I was walking home from the grocery store.  My husband was home with our baby, and we had been waiting for a phone call about blood test results we had requested from his pediatrician for an agonizing three weeks. 
As I felt the buzzing phone in my bag on a cool November day, I struggled to hold on to my groceries and also answer the call.  Plopping the bag on a neighbor's stoop, I rooted through my purse until I spotted the phone amongst the baby wipes, pacifiers, and other miscellaneous mom junk.  I saw the pediatrician's number on the screen.  My breathing accelerated as I answered the call and I then focused exclusively on the bit of sidewalk between my feet.

Not fully prepared to hear the words that she was about to utter, I took them in anyway, one blow at a time. The voice on the line flatly said, "So it looks like he tested positive for Fragile X.  The full mutation.  To be honest, at this point you likely know more about it than I do."  I think I thanked her, and at some point we hung up.  Standing about a block from home, I could feel the trajectory of our lives shift as the fall wind blew down our street, the leaves jostling on their branches, looking carefree, just as they had a few minutes before.  That's all I could see in the moment. Then the periphery completely disappeared, and I fully understood what it meant to have tunnel vision.  
I don't know how I got home, or if I remembered to grab the groceries, but when I arrived, I told my husband the news.  His reaction was tender.  He held our son's face gently in his hands and said sweetly to him, "Oh buddy." 
We had suspected something significant was amiss, but not anything quite this serious.  While nothing had changed from our son's perspective, we still felt the floor drop out from under our feet, like we were falling off a cliff.  There was a sense of mourning that I was ashamed to feel.
Looking at our beautiful child, I wondered how this was possible.  I realized all of the things I projected on to him about who he was and the life I imagined he would have.  I began disengaging from those ideas. I found myself wanting to hold him so tightly, as if he might perceive this news as seriously as we did, and somehow that this hug would make it hurt less for all of us.  Perhaps the most painful realization that I had then, and the thing that still keeps me awake at night now, is the question of how independent our son will be, and who will take care of him after we are gone.

We had requested the test from our pediatrician because Fragile X was mentioned by one astute diagnostic specialist as a reason for digestive issues our son was having.  Also mentioned as possible culprits were mild cerebral palsy, cystic fibrosis, allergies, and celiac disease.  We decided to go through the list of things we could test for.  "Fragile X," he told us, "Well, there's really nothing you can do about that so maybe test for that last.  He does have the large ears and low tone, which are common in Fragile X . . . "

Learning that you have a child with Fragile X Syndrome, and what that means exactly, can be a slow burn.  From Googling what this meant, talking to The National Fragile X Foundation, and ultimately with a genetic counsellor, we learned that our son was intellectually disabled.  He would have autistic characteristics if not classic autism, he might develop seizures (he did), and he would likely have challenges with independence (he does).  There is no cure yet for Fragile X, however, there are, contrary to the astute diagnostic specialist's opinion, suggested treatments, including early intervention. 

Even though fragile X syndrome is the most common form of inherited intellectual disability, it was not among those that were a part of the routine testing done in prenatal care at the time of my pregnancy.  And because it can be silent in a family for generations, there is no way to know that you are a carrier unless you get tested, or have your baby tested, if she or he is having characteristic symptoms.

At the time of this writing, Beacon's Closet has about 26,500 Instagram followers.  One out of 150 women are carriers of fragile X syndrome, which means that 176 of our followers are, like me, carriers of fragile X syndrome.  176 of these followers have a 50% chance of having a child with fragile X syndrome, or of being a carrier of fragile X syndrome.  For women, being a carrier means early menopause, premature ovarian insufficiency, anxiety, and virtually no other discernible symptoms in younger carriers.  Males can also have the premutation and will pass it on to all of their daughters, but none of their sons.  Having the full mutation means intellectual disability in males.  Females with the full mutation have an extra X chromosome which helps them with executive functioning, so their symptoms can range from mild to severe.  Other symptoms include potential GI issues, anxiety, autism, seizures, and learning disabilities. 

Our son is 12 now, and he is making slow but steady progress.  He has been seizure free for two years. He is still learning how to read and write. He is communicative and has a full life, and is also the happiest person that I have ever met.  He is a ray of light in what is an increasingly dark world.  He will face many hurdles, but he relies on decent people to rise to the occasion and support him every day.  He now has a caring brother to help look after him, and we are lucky enough to live in a city among people who are deeply compassionate.

July is Fragile X awareness month!  

To donate to the NY chapter of the NFXF click here: https://give.fragilex.org/fundraiser/1509720  

To read more about fragile X syndrome, click here: https://fragilex.org/#home   

To get tested, find information here: https://fragilex.org/learn/testing/ 

100% of profits from online sales today will go to the National Fragile X Foundation's Greater NYC Chapter

Thank you to Beacon's employees for steering the ship and providing over two decades of dedication to the work you do every day.  And thank you to our customers, for providing both my immediate and extended Beacon's Closet family with years of loyalty and support.  Your continued patronage means the world to us.