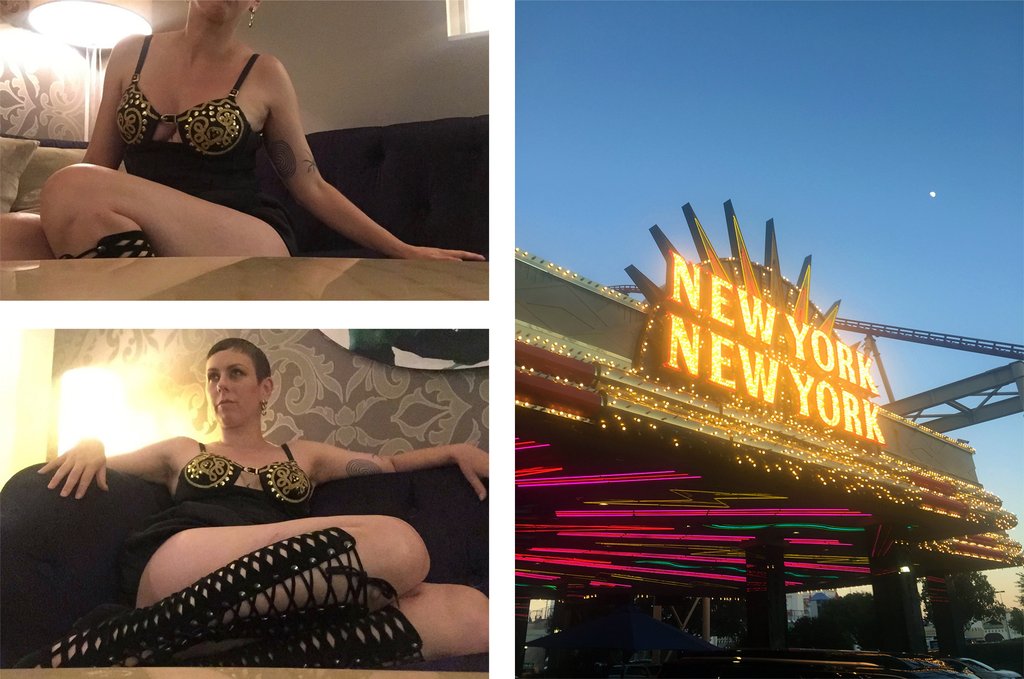 twisted fantasy
disco caftan and turban for the pool

greenpoint manager, caroline, jets to the desert for her favorite band and relishes in the twisted fantasy that is las vegas.
purpose of journey: to see my favorite band, iron maiden, and revel in the grit and glamour of las vegas-a twisted fantasy of leisure and escapism.
never travel without: a kimono and a bathing suit
favorite outfit you packed: a sheer gold mesh embroidered caftan from the 60's - it functioned as an evening gown or pool cover-up, and felt very sharon stone in casino.
how many pairs of shoes: 4
what are you listening to: iron maiden, obviously. also donna summer, dazz band, ohio players, santana, and the amazing live recording of elvis's first vegas show called "that's the way it is." recorded in 1970 (there is a documentary of the same name that is worth watching) it is elvis teetering on the brink of all the excess that defined his later career. his band had all the best players in the world and the energy is electric. elvis is audibly intoxicated throughout a lot of the song breaks. during "love me tender," he walked around kissing women in the audience which on recording just sounds like a bunch of random pauses in the song. it is amazing and absolutely embodies how i feel about las vegas in general.
favorite meal: the steakhouse at circus circus. we had surf and turf and iceberg wedge salads and it was excellent. circus circus is one of the oldest hotels on the strip, (built in 1968) and is such a weird, creepy, and amazing scene. they are one of the last remaining casinos to still have have old school coin and lever operated slot machines. people bring their kids there to hang out in the arcade on the second floor while they gamble downstairs. the steakhouse feels like it is a portal to another world entirely. from the chaos of the casino floor you walk into a cool, dimly lit, classic steakhouse with red leather banquettes, stuffed quails and oil paintings on the walls. the waiters wear tuxes and the restaurant dry ages their own meat for 21 days in a special room next to the bar. they played frank sinatra and the whole thing was very old vegas.
highlight of the trip: iron maiden, duh! no show in vegas compares. iron maiden is consistently at the top of their game and one of the hardest working bands in the world. they come from a place of real love, gratitude, humility, and joy. for 40 years they have continued to write and perform the best, most epically amazing material. somehow, they have managed to escape the spiral of drugs, alcohol, addiction, fame and ego that consumes so many performers on their level. it is so inspiring. i am completely obsessed with vocalist bruce dickinson. he is a flamboyant, committed, over-the-top performer with this operatic vocal range and multiple costume changes for every show. i really relate to his gender expression - he has a high energy masculine presence paired with the best looks and an unprecedented ability to work a crowd. he is also a pilot and flies the band around the world in a custom 747 when they tour. i love him and i want to be him. also, as a bass player, steve harris is one of the all-time greats and it is such a thrill to see him perform. iron maiden is his vision, and it is so fully realized and so transformative for so many people, there is nothing to do but bow down. their drummer, nikko, is amazing he keeps pace with steve's insane bass lines on a kit so massive that you cannot even see him! for this tour his drums were trimmed in gold, which was very vegas. iron maiden is famous for having 3 guitar players - originally there were 2, but adrian smith left for a while in the 90's to pursue other projects and when he returned, instead of kicking out the new guy, they said, "we're iron maiden, and we have 3 guitar players now because we can and it is amazing." they are also famous for their full concept album artwork and stage sets, and this show was no exception. they were touring in support of their latest record, the book of souls, which is all about ancient mayan civilization. the stage included a giant pyramid, a cauldron, multiple pyrotechnics, and a new backdrop for every song. their new songs are awesome but they interspersed their set with a long list of classics. they did "number of the beast" as their first encore and brought down the house. they also did "wasted years" which is one of my favorite ever songs about the importance of living in the moment.
left: getting in a vegas state of mind with torn by ronnie kobo top and leather shorts on the plane.
right: i am obsessed with how vegas feels almost like a colony on the moon - the high desert of nevada is one of the most unlikely places for a city that requires such insane amounts of water and power. this is lake mead, which used to be the largest reservoir in the us. due to drought and increased demand for water, it has not reached full capacity since 1983.


magic hour view from our room on the 66th floor of the cosmopolitan.




circus circus is on the north end of the strip and it feels pretty removed from the high-end mall vibe of all the high rises in the thick of things. i love the creepy clown / sinister carnival vibe and the 60's architecture.


the casino floor at circus circus was featured in the 1971 james bond movie, diamonds are forever, and it hasn't changed much since the film was made. live trapeze performances still happen above the midway everyday at noon and there are circus games and prizes everywhere. i won a pair of fuzzy dice at the arcade that i kept on my purse like a charm for the rest of the trip.


left: daytime look #1: fuzzy dice and leather shorts for the casino.
right: i changed a $20 into a bucket full of $1 tokens and played the dollar slots - on the last one i made my $20 back! i love the old school coin and lever operated slot machines and the sound that the coins make when you hit the jackpot. circus circus is one of the only casinos that still has them, and there were plenty of die hards with their buckets who were clearly only there for the coin machines.  




we went on a mission to the las vegas cigar company to get a box of cigars for my boyfriend. they have a reputation for hand-rolling their own cigars on site and for being a hangout spot for old vegas heads. the walls are lined with photographs and old vegas memorabilia. they have an espresso machine and a beer cooler ready to supply beverages while you wait for your cigars to be rolled.


night-time look #1: la perla and dolce & gabanna for the steakhouse at circus circus. my dolce & gabanna nude crocodile stilettos are the most insane purchase i've ever made. i wear them exactly once per year to do something extravagant.


the steakhouse at circus circus - she fancy


left: nighttime look #2: vintage bustier and lace up boots for iron maiden
right: we walked through the new york, new york casino to get to the show, which felt pretty down-the-rabbit-hole.


maiden!! everyone is really going for it during the trooper and bruce is killing it with that massive flag.


iron maiden's mascot eddie appears on every album cover and in all the artwork, and makes an appearance at every show. this giant animatronic eddie came to destroy!


they played number of the beast as their first encore and it was completely insane. this song features one of the best screams of all time in my opinion, and the giant inflatable beast behind the stage was so awesome.


follow caroline on instagram @carolineyesss,
her iron maiden fan page on tumblr,
and listen to her band's new song, inspired by her love for maiden 
stormborn/throes by flown