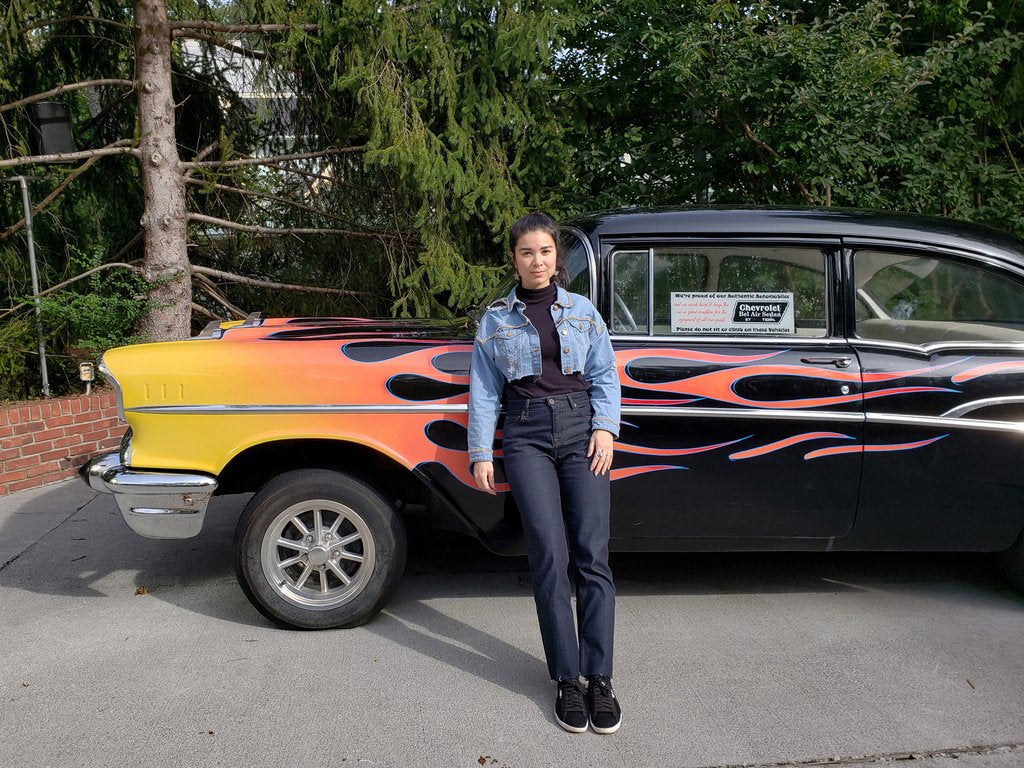 zip-a-dee-doo-dah


all aglow, just me and my mallow


greenpoint manager leah heads to the smoky mountains for a family celebration, a visit to dollywood and she fuels her carabiner affinity with some ziplining.



destination: the great smoky mountain region of tennessee, specifically sevierville, pigeon forge, and gatlinburg
purpose of journey: to reunite with my parents, aunts, and uncles with some of our knoxville kin in order to celebrate my grandfather's 88th birthday. as well as to visit dolly parton's charming theme park, dollywood!
never travel without: anti-bacterial wipes and doterra "on guard +" immune support softgels
favorite outfit you packed: black mock turtleneck paired with 90's navy pinstripe overalls, cream beret, and chunky black patent shoes by opening ceremony
how many pairs of shoes: i was good this trip and only packed 3
what were you listening to: the impressive and moving bluegrass southern gospel stylings of the talented isaacs family, live at dollywood
favorite meal: potluck lunch with the whole family at my parents' timeshare with all the homemade fixin's and southern comfort one could ask for: honey-glazed ham, fried chicken, mashed potatoes, green beans, mac-n-cheese, a crunchy green salad, sweet tea, biscuits, and the lightest, dreamiest coconut and chocolate cakes this gal has ever tasted.
highlight of the trip: ziplining with my dad! i've wanted to try ziplining for a few years now and was so excited that my father, my aunt, and my uncle were up for the adventure. we chose a tour in gatlinburg where we zipped through the air across nine lines from treetop to treetop, taking in the crisp, clean air and gorgeous views of the smokies. by the seventh zipline, i was going upside down and backwards through the air like spiderman! we also rode an atv up to the top of the mountain, traversed a few wooden suspension bridges, and rappelled down a towering tree. not sure how i came to love these types of activities so much, but i'm just grateful they exist. it's also possible that i just have a thing for carabiners.


toasting marshmallows for s'mores while warming up with family around the firepit under the tennessee stars


'57 chevy
oh my gourd, dollywood is all decked out for fall 
a portrait of young dolly at the chasing rainbows museum. she literally sparkles


the cozy tour bus boudoir where she has written numerous beloved hits. can you believe this bus was her home away from home on her pure & simple north american tour...in 2016 at the age of seventy 


a few of her beaded and bejeweled looks

mom and i love a classic carousel


the wild blue yonder
family reunion time! my grandfather (sitting on couch in dark blue shirt), his lady friend, his four children, their four spouses, and four of our extended family members from knoxville, along with my cousin and his wife who are helping me represent the grandkids' generation, though there are 8 more grandchildren not in attendance


one of the precious family photos brought by one of our knoxville kin to share at our reunion lunch. my late grandma sarah is the young woman on the far right. women had such stunning hairdos in the 1940's, swoon!


my dear grandfather john chillin' with a cockatoo on his 88th birthday


dad and i are pumped for zipping. got our carabiners on, so we ready, let's go!
suspension bridge high up in the trees


we got a more intimate look at the smoky mountains and local foliage on our zipline tour
peeking over the edge of one of our treetop platforms
zip-a-dee-doo-dah, see you on the other side...
follow @leahmooneyes