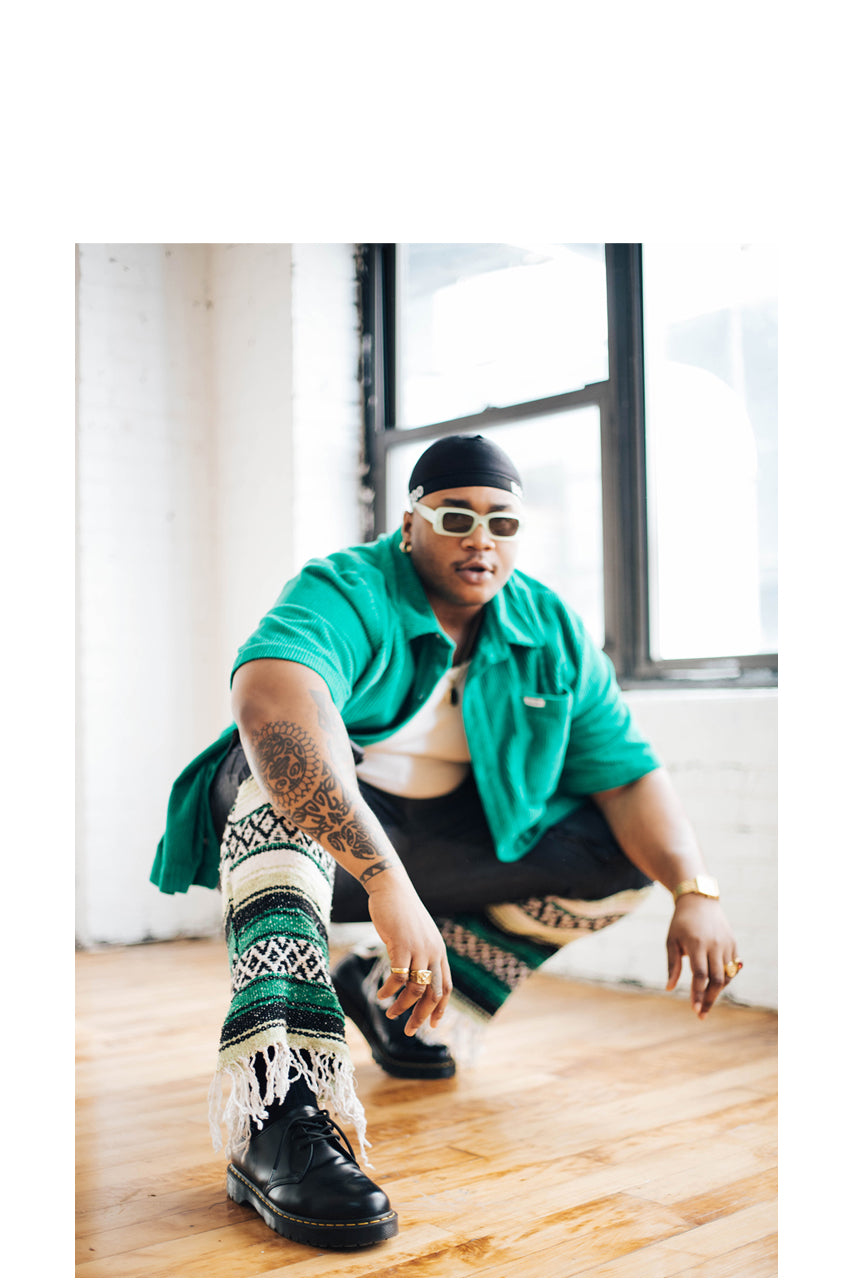 bandit studioz
using found textiles and scrap fabrics, designer and founder of bandit studioz, jachuku omotayo howard has created a brand that aims for the future while tending to the climate-conscious issues of today
 
what does sustainable fashion mean to you? 
sustainable fashion to me is a way to ensure fashion's future. in a world where fashion is a luxury consumable, we have to find different ways to create clothes and salvage what we have.


how did you start designing?
my mother taught me how to sew in high school and since then i have been sewing.



what inspired you to start bandit studioz
bandit studioz was a project i started to help me survive but through the process of creating it has become so much more. i wanted to make something that reflected my style and my love for various cultures-bandit studioz became the space for that.

who inspires you and why?
people inspire me, especially artists. in a world that tells us to go left we insist on going right. growing up i have always been surrounded by an eclectic group of people. learning from their perspectives has helped me create something that reflects our culture and helps connect us to others around the world. 
 

how have you seen the sustainable fashion industry change/develop?
sustainable fashion has really had a spotlight in the industry due to the climate of the world right now. with the rise of diy culture in streetwear to the activist fighting for change in how we use and dispose of our resources it has become a hot topic. there are a lot of new ways to explore sustainability creativity and show people that it can be chic. personally, i feel that most people fear that they have to sacrifice style for sustainability however i don't think that's true. as more people realize that we will be able to have a healthier industry.


tell us about your career progression, where you studied/where you worked?
i studied at marymount university in arlington virginia and lorenzo de medici in italy. after graduation, i started interning for triple 5 soul while i was helping develop a multimedia platform that helped local artists tour the united states. after i left those companies i started bandit studioz and have been able to work with brands like converse and hood by air. currently, i am working on a new collection based on afrofuturism that will be released in march.
how do you get unstuck creatively?
when i am stuck creatively i tend to relieve the tension and just walk away. sometimes when you're pressing the issue you're making it worse. letting go helps me see things clearer and start with a clean slate.

what is your favorite part of designing
my favorite part of designing is watching people in my clothes. there is no feeling like watching a client put on something you made for the first time and watch their reaction. those moments make all the hard times worth it and help me push when i am tired.
follow @banditstudioz