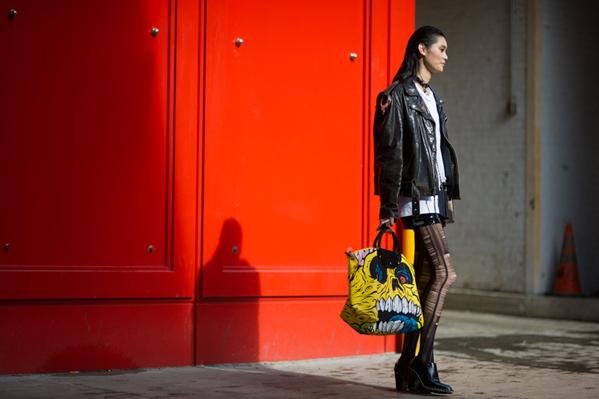 behind the lens - wataru bob of an unknown quantity

photo by chris lee
if you've seen our latest homepage editorial by wataru "bob" shimosato, then you are already privy to the talented and original eye of this local photographer. today we shift the lens on wataru and his own work from his streetstyle blog, an unknown quantity.  we can't decide which we love more-his beautiful photographs of new yorkers showcasing their style, or his poignant commentary that celebrates the individuality of his subjects. but it's clear that wataru loves what he does, and that's perhaps the most inspiring thing of all about his work. we spoke with him about his passion.



ming xi at jeremy scott show, NYFW, new york.

mikey kingsland on mulberry st, nolita, new york.
how did you become a photographer?
i started shooting street style as a hobby about 5 years ago. i hadn't even thought of becoming a photographer but i just keep living with the flow, and now i am how i am.


what sort of opportunities has doing the blog brought you?

mainly i stop people on the street who i am interested in and shoot them. it's a really good way to connect with people since i actually chat with them a bit. generally people that i like take an interest in me as well. consequently, we become good friends who can help each other out.



mai matsuda in nihonbashi, tokyo, japan.

greg dacyshyn on mercer st, soho, new york.
 
who that you've photographed sticks out in your memory and why?
my current favorite is the creative director at burton snowboards, greg dacyshyn, maybe because i'm from nagano where the 1998 winter olympic games were held. i grew up with winter sports like snowboarding. and he actually always has amazing style. it's not about trends or fashion, but it's more like he's telling us his own life. i'm amazed by style, not fashion.

rumi neely before tommy hilfiger NYFW '14SS, new york.

shaka maidoh on nevins st, boerum hill, brooklyn, new york.
you've written that you like to shoot people who have style but are not necessarily "fashionable," per say. can you expand on this?
to put it simply, i think if you have enough money, then you can buy any clothing. but you cannot buy style. that's priceless. style shows a part of a person's life or aesthetic. i'm interested in the person himself.

what differences have you noted between japanese fashion and american?
i think in japan, we have high standards for fashion. even if people are not interested in fashion, they wear something nice and clean. here, i think if people don't have any interest in fashion, they don't care how they dress at all. however, many japanese people care too much about it. recently i have come to like the american way since it's more natural and they follow how they feel. but at the same time, i respect both the japanese and american way.

bruna tenorio after ralph lauren show, NYFW '15SS.

mike nouveau, noir rain and mike parle on mott st, noho, new york.

what trends are you currently observing?
i try not to see trends. but as for myself,  i like to see people dress natural or not too much.
view more of wataru's work at an unknown quantity and instagram @watarubob.
stay tuned to our homepage where you can see his photos for beacon's, going up each week, all month long. 

interview by julia popescu