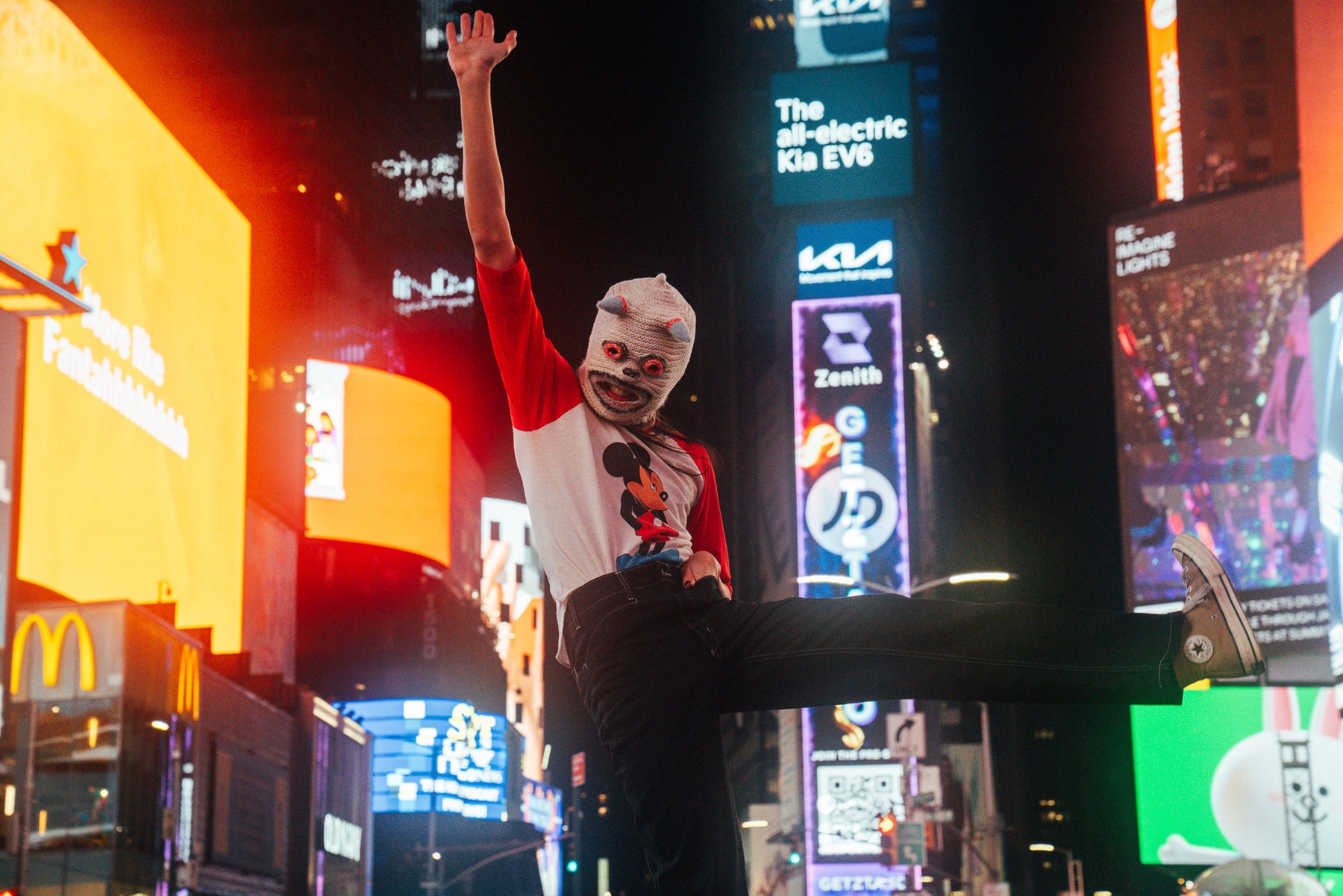 big girl baby artist
artist katrina demarcus santiago explores hidden identities and memories through textural sculptures and paintings. currently, they're reinterpreting a central figure in puerto rican culture - the vejigante. katrina's máscara caretas are hand-knit and crochet - a softer adaptation of the iconic cultural symbol. 
what inspired you to start knitting/crocheting vejigante masks?
i was studying illustration at pratt working on my thesis when hurricane maria hit puerto rico. i was in class trying to concentrate, seeing videos of the damage and unable to speak to my mom or anyone on the island- for weeks. i started diving into pr archives and pulling out images, maybe as a way of distracting myself from the stress of the disaster, thinking i could do something centered around the island which has always fed my inspiration. somewhere in that research i decided to utilize the most recent skill i had learned in a fashion elective class and try to knit one of our traditional vejigante masks. they're usually made of paper mache, or little coconut husks. we had always had them in different rooms of the house and in the car, my pa was kind of quirky that way. it was very organic- and when i had finished knitting the first mask i fell in love with making them and just kept going. 


describe your creative process..
i would say my creative process is very experimental. i was introduced to textiles pretty late in my studies, and i approach making masks as sculpturally and compositionally as i would a painting. i'm always collecting yarn/materials to incorporate textures into my masks. texture is a big part of the process across all mediums. i sketch ideas sometimes but mostly pick up a color of yarn and some tiny needles and see where the form takes me. 
what does sustainable fashion mean to you?
to me, sustainable fashion is the best fashion. i mean the best looking and the answer for our world. i realized after getting into textile design that the best pieces i made were made of natural fibers and yarns which i had scavenged for. i'm someone who often dreams of estate sales or finding trunks full of old fabrics and yarn treasure. i am from atlanta where thrift stores are the best and only places to shop in my opinion, always full of silk, linen, and cotton goodies. i feel as if it's my responsibility to be conscious of everything i consume- but that also finding materials and using what i have around me just makes my art feel warm and familiar and just look better.
how do you get unstuck creatively?
the first thing i try to do when i am feeling stuck is organize my workspace. i'm not a tidy worker, actually quite the opposite. but if i start with a clean table for example i'm already that much closer to making something. knitting also helps me tremendously. i never feel nervous to start a fiber piece because it's fun and the yarn feels good in my hands! it's important to work through the stuck, it is usually the little devil on your shoulder telling you rude things, not your inability to create. 



who or what inspires you and why?
i'm inspired by relationships, community and identity. i'm also inspired by shapes in nature and my surroundings. i have many muses in my life: my puerto rican family members; my mom and my cousin isa first to come to mind. they inspire me and also support my artistic language. i have always felt a strong need to make things, and communicate through imagery. it's hard to put into words exactly how people or things in my life fuel my creative brain. women of color, my family, puerto rico, are my biggest muses- despite all the obstacles in their way, they shove insane beauty and love in your face, and you simply can't look away. i like to share those feelings, to try and make things that feel like those feelings. it's endless inspiration and unfortunately something our country continues to try to steal and extinguish. we will never let them!!