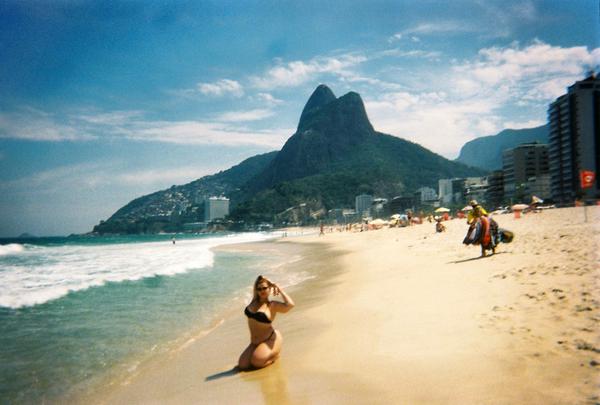 brazilian birthday
bushwick employee tina, and her childhood friend and birthday twin mina share a joint birthday bash, brazilian-style!

iguassu falls on the brazil side. unreal
destination:  brazil
purpose of journey: mina and i have the same birthday (7/14) so we go on birthcation together every year
never travel without: those stupid airplane neck pillows - they are legit though. mario badescu aloe, herbs & rosewater spray. for real, it is only $7 and is the best product ever. eyebrow pencil…you can take my eyes but not my eyebrow pencil
favorite outfit you packed: probably this missoni two-piece that is purple and orange cheetah print pants with a matching tube top. i only wore it once, out in lapa in rio 
how many pairs of shoes: 3 boots; the better to hike with. white nike air maxes, and a pair of pons avarcas (judge me)
what are you listening to: fetty wap, loads of samba, and drake. we also watched a lot of brazilian mtv. we fell in love with mc guime. google him. my fave song is "queira ou nao queira."
favorite meal: pastels pastels pastels. they are big rectangular dough pockets filled with anything, like cheese, and then deep fried and served with this spicy brazilian version of duck sauce. mina and i were obsessed with the brazilian-japanese fast food, specifically a spot called koni (miss u booboo). also shoutout to my main berry acai-you're a star.
highlight of the trip: jeeze. the whole trip was really crazy.  hiking corcovado to christ the redeemer was insane for me, it was so, so vertical and so high.  we don't have nature like that on long island, let me tell you. we went to the southwest of the country to see the iguassu falls, which blew my mind. i have never seen waterfalls before and mina and i took a "boat tour" which was actually a raft into the falls. that was pretty incredible. i love brazil. it has some of the most beautiful people inside and out (emphasis on the out, though) and is one of the most beautiful countries i have ever seen.


leblon, rio de janeiro <3




batman alley, brazil



batman alley; brazils answer to five points


we read an article a couple months before we left about this tattoo shop that was opened up by a woman (samantha sam, left) to help support and employ other women in the industry. so we went to get a sign of femininity tattooed and it was a really special experience. we just wanted to give a shout to all the all girls at sampa tattoo, mucho gusto! obrigada!



we happened to be in salvador during gay pride. it was the craziest gay pride parade i've ever been to, hands-down



this was at our hostel, hostel galeria 13. you can hear all the samba from the streets and restaurants while sucking down 5 or 7 caipirinhas



almost to the top of corcovado after 2 hours of climbing




christo redentor ayy




foz de iguassu, where there was an amy winehouse wax figure at baggage claim



we've got argentina to my left and paraguay to my right, bring 'em both together we got jukin' all night.



top of pao de acucar



follow tina on instagram @fatsexybaby