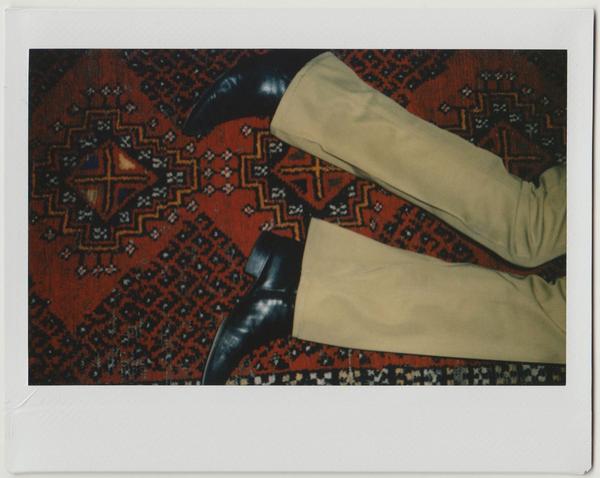 can you dig it? - styled by christian
bushwick employee christian puts on a 70s show with his flares and rock and roll aesthetic. as a musician and actor, playing a punk icon for an upcoming hbo series is no stretch . . .


you have like a million creative pursuits beyond being a beacon's buyer. what are you currently up to?
right now i've been writing a lot of new songs for my rock n' roll group, saint rich. we put out our first album about a year and a half ago on merge records and are almost ready to start recording again.
i also play guitar and synthesizer in a group called delicate steve, which i've been a member of since i was 17. we have two records out on david byrne's label, luaka bop and are in the process of putting out a third.
last year i was casted to play david johansen of the new york dolls in this new hbo show called vinyl after i sent in an audition tape of me singing "trash" shirtless in someone's backyard. they just had me back a couple weeks ago to shoot again for another episode.




do any of these projects/creative acts influence your style?

for sure. they had me wear these fantastic high-waisted silk bell bottoms for vinyl that i completely fell in love with. after spending hundreds of hours in those things it was nearly impossible to put on a normal pair of jeans and not be depressed, so i've been on the hunt for a similar pair of pants ever since. i pretty much only wear high-waisted bell bottoms at this point.



you have a definite 70s vibe. what about this decade resonates with you?

i think the 70's were a very special time for men's fashion and american culture in general. there was just a certain amount of playfulness and vibrance that i don't see in most contemporary fashion. i feel extremely lucky to be a 23-year old in the year 2015 and wouldn't have it any other way, but i know i'll have more fun wearing bell-bottoms on any given day than like a slick new pair of apc jeans or something.






interview by julia popescu