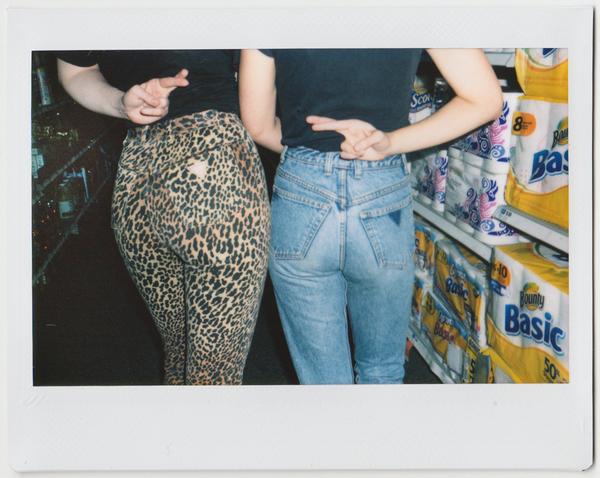 closet connection - styled by alta & rachel
beacon's buyers, alta and rachel are best friends with compatibly playful, yet personal styles.  this duo takes us to a few of their favorite hang spots, including manhattan three decker diner, rite aid, and each others' closets.
you guys are obviously besties. the photos show how much fun you're having! how and when did you meet?
rachel: we've been best friends for about 11 years, officially. we met at a performing arts high school in massachusetts our freshman year. technically though, i had seen alta before. i noticed her at a mutual crush's bar mitzvah in 8th grade and quickly identified her as cool. she was wearing a lime green vintage dress and her short hair was dyed an orange-ish red. she seemed like a bit of an outsider. neither of us were exactly popular and i don't think we were socializing much at the event.
alta: yeah, i hardly remember anything from that bar mitzvah but i do remember locking eyes with rachel. she was wearing a black-rimmed hat and had the ends of her hair dyed pink. she was sitting at a table by herself. i had absolutely no one to talk to-if only i had just sat down next to rachel that could have been the best bar mitzvah ever!
do you inspire each other's style?
rachel: i think we've definitely rubbed off on each other over the years. as we were putting together pieces from our closets for the shoot we found that we've accumulated a lot of similar clothes. i am very inspired by alta's style. it is so uniquely her own and has inspired me to find and express my individuality through my own style. i also love the way she incorporates play and humor into the way she dresses. her approach to fashion is not so serious-what a breath of fresh air!
alta: oh, i just love you, rach! i feel so lucky to have a best friend of this quality. our life experiences and phases have been so paralleled and intertwined for so long that it would be impossible not to rub off and influence each other. rachel will do something new or try a new kind of accessory, like a winter baseball cap, and i'll just be like, "oh of course!  I want one!"  i think that goes both ways and that's probably why we have so many similar things in our closet.
did you guys share any unfortunate fashion moments?
rachel: i can't think of many bad fashion moments. i'm sure we did just fine on our own! alta, can you think of any?
alta: well, we both rocked some very low-rise pants.
the sunglasses photo helps me picture you guys when you're older. just a couple of salty dames. how do you imagine yourselves as friends in later years?
rachel: i like to picture us when we're older too. i imagine us pretty similar to the way we are now but probably, hopefully, a few things will have changed. style-wise, i bet we will embrace a more "comfort-first" look (shoutout to leggings and big sweaters) but i hope aging doesn't deter us from dressing up and expressing ourselves. i love older women like iris apfel or the idiosyncratic fashionistas who have amazing personal style and don't conform to conventional ideas about aging and beauty.
alta: i feel like we will get increasingly more bold with our fashion choices. that's the best part of getting older-caring less and less about what people think of you.
polaroids by alex stewart
interview by julia popescu