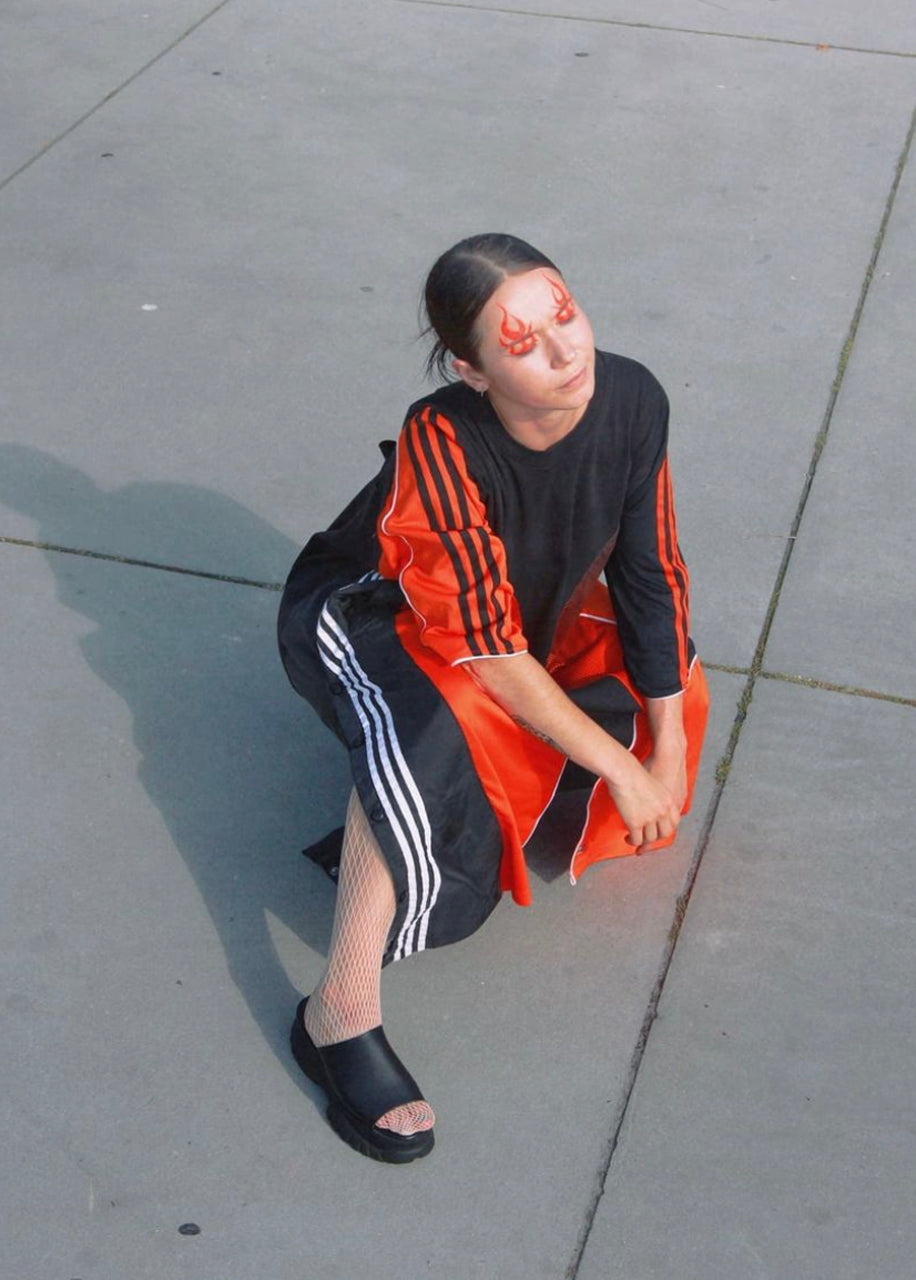 repairing and remaking: daniela doe
daniela wearing her 'new sweater from an old cardigan'. photo by alexandre doe



daniela doe is a portuguese-french multidisciplinary graphic designer based in malmö, sweden. her artistic work translates graphic research on textiles through various techniques such as tufting, embroidery and upcycling methods. she uses these techniques to create wall tapestries, sculptures, and wearables.



multidisciplinary approach


daniela seamlessly blends graphic design with handcrafted textiles. having the perspective of different backgrounds such as fashion, graphic design, and crafts really opened up the way she creates and plays with different materials. this gives her the opportunity to push traditional craft techniques in innovative and unexpected directions. she is always looking for ways to push the boundaries of digital and handcraft techniques, as well as exploring what arises from the combination of these two fields.
the convergence of influences from her diverse backgrounds provides daniela with the freedom to forge unconventional paths and explore the possibilities of a broad range of materials.


creating up-cycled pieces
shoe corset inspired by paolina russo upcycled work - made with a pair of nike classic cortez


daniela's journey began during her high school days when she discovered her interest for transforming and upcycling her own clothes. her passion continued to grow when she enrolled in fashion school in lisbon, taking her creativity to the next level.
now, she leads hands-on workshops with the mission to empower others to make the most of their wardrobe and breathe new life into old clothes. daniela shares techniques that allow people to repair and reimagine old garments.


wear the art x fngrlckn exhibition at @cowgirlgallery.
 
from concept to finished product
daniela typically seeks out garments that instantly spark ideas for transformation or repurposing, gravitating towards graphical wearables like sportswear, cycling t-shirts, and sneakers. the vibrant colors, graphics, and typographical elements of these items hold a strong allure.
allowing the garment itself to dictate its deconstruction, patterns, and shapes play a significant role in the initial cutting process. daniela often follows these patterns and shapes, strategically connecting them in intriguing ways.


can you walk through your design process, from concept to finished product?
i normally look for pieces that give me an instant idea of what i can do or transform into something new. i feel very attracted to graphical wearables, often sports clothes, cycling t-shirts, sneakers, and so on. i think it's because of the colors, graphics, and the typographical aspect of these garments.
i let the garment tell how it should be deconstructed. i follow the garment pattern and shapes many times to start cutting. and then it's about following these shapes and connecting them in interesting ways.
i never sketch in this process. i use the floor a lot to map out all the different components that i just cut, and i start visualizing the new piece from this point of view.
adidas upcycled dress produced during the distributed design summer school in copenhagen 2021.

after this step i start connecting all pieces together with loose stitches and trying on my body. i think it's important to check how it feels when you wear it. 
if i'm happy with the composition i start sewing, i use a normal sewing machine and an overlock. final touches and it's done!    


adidas up-cycled dress - model: rumina @yenirumina mua: widianne x @localangrybitch
workshops and educational programs
the workshops originated in malmö during daniela's first residency at stpln, an open maker space and co-working hub known for its community and diverse array of events and workshops.
some pictures from the 'repairing and remaking' workshop, which was part of the 'slow textiles' program in malmö, sweden. the program was organized by @s4fashion.eu


as she embarked on her first workshop, she felt a mix of excitement and apprehension. this was her first experience teaching, an opportunity to reveal her creative process and convey it to a diverse group encompassing various abilities and backgrounds.
the workshop embodies an ethos of openness. participants are encouraged to bring their own pieces or explore the materials readily available. with an abundance of tools and materials at their disposal, attendees are free to immerse themselves in creative exploration.
additional photos from "repairing and remaking" workshop led by daniela doe. photos by: wild cosmos studio.


"i normally start the workshops asking the participants "what's your relationship with clothes?" and it's so nice to see how people feel about it, some are very straightforward, others are super emotional, there are all levels and that's really interesting to me. is also a question that helps the group to open up and bond together. all new friendships begin here too."
when reflecting on her most memorable moments of connecting with people, daniela expresses a particular instance that stands out in her mind - the joy and inspiration she derives from conducting the upcycling workshop. witnessing diverse individuals actively engaging and experimenting with textiles feels incredibly fulfilling.
"repairing and remaking" workshop. photo by: wild cosmos studio.


principles of circular fashion
daniela encourages others to keep their clothes longer by teaching techniques that help to repair and remake old clothes or textiles which are no longer being used.
while attending a summer school in copenhagen called "distributed design to improve life," daniela created an educational installation that features upcycled pieces. the installation combines informative posters and cards about upcycling methods and principles of circular fashion, such as waste avoidance, versatility, cyclability, and new formats.
8-card deck celebrates 8 different principles of circular fashion.
the principle of circular fashion cards is an 8-card deck that celebrates 8 different principles of circular fashion. each card displays a principle with real-world examples of designers' methods and platforms. including questions to help you get inspired and make better design and production decisions.
additionally, daniela doe hosted several repairing and remaking workshops during the distributed design exhibitions. the two-hour class focused on repairing and remaking old clothes, and participants were given an introduction to different techniques that can be easily learned and applied. these techniques include painting, embroidery, visible mending, applique, simple deconstruction, and reworking with scraps.
@distributeddesign exhibition at @makerfaire @fablabnordvest. photo by: asger nørregård rasmusse
current and future projects
daniela's (@danieladoe) instagram.
this year marks a significant milestone in her journey as she establishes her own studio, an endeavor that has opened a multitude of doors. with the freedom to pursue her own ventures and collaborate with fellow creatives, she finds herself fully immersed in a world of excitement. the realization of having her own studio and engaging in projects alongside like-minded individuals is a fulfillment of a lifelong dream.
as time goes by, she finds herself increasingly drawn to local and international collaborations, seeking out projects and individuals who resonate with her and share a harmonious creative energy. the urge to connect and create with kindred spirits has become an integral part of her artistic journey, propelling her to explore new horizons.
"this year i got my own studio, which has given me a lot of opportunities to create and have fun projects. i'm now working on my own collaborative projects full-time, which is very exciting and scary at the same time. i have always dreamt about having my own studio and working on fun projects with other creatives, i'm living the dream now."
follow @danieladoe
www.danieladoe.com


interview by leticia ferraz