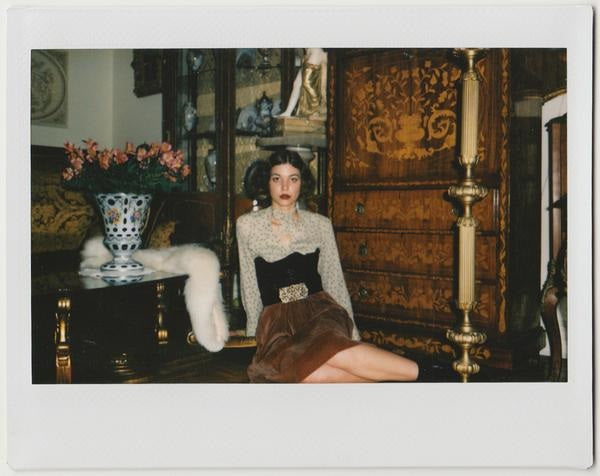 gilded glamour - styled by kelsey

kelsey adores vintage everything and wears it with a golden-age-of-hollywood glamour. her signature slip dresses, fur collars and whimsical headpieces give her drama and star power. she shows off her crowning showpieces...




what's your favorite era of fashion and why?
i'm going to cheat a little and say the first half of the 20th century, through the 1960s, before the current era of mass production. in 60 years women went from fully covered and corseted to wearing denim and mini skirts! i'm interested in how the social/political climate can shape what people are wearing.
in terms of what i wear, i gravitate towards 1940s to early 60s pieces but love historical fashion. what i would give for a 17th-18th century brocade bodice! the crown i'm wearing in my photos is actually a 19th century piece.




what inspires your style?
i think the clothing itself is my main inspiration. shopping at thrift stores and looking for vintage allows me to find pieces that catch my eye, that inspire me to build something around them, rather than regurgitating whatever's on trend. it's hard not to be inspired when i constantly have amazing things falling into my lap at beacon's!
i'm also inspired by film and i like looking at old photos. i love lush period pieces like elizabeth and orlando. wong kar wai's the hand has also stuck with me stylistically. i'm drawn to things that are romantic and glamourous. i feel empowered by a kind of unapologetic femininity.



favorite piece in closet?
i can't pick just one. my closet is huge (figuratively not literally, this is nyc)! the 19th century crown is currently my most prized possession and i'm obsessed with the 1940s gown with feather sleeves i wore in one of the photos. also worth mentioning is my melon-colored oscar de la renta fox fur collar and a silver-ey beaded 1950s cocktail dress that looks like liquid on my body.


interview by julia popescu