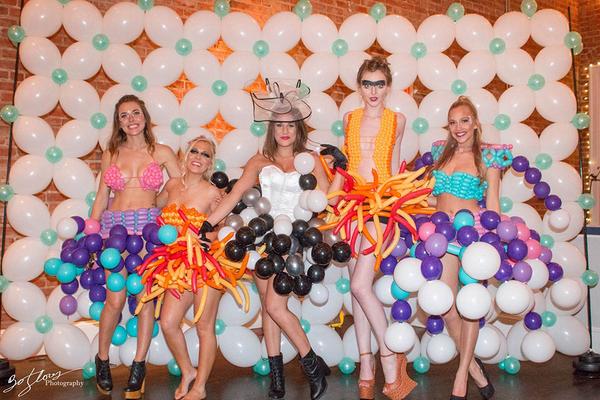 haute air

what's the the ultimate symbol for fun and festivity if not a balloon? so when molly balloons creates dresses from this party favor, we can't help but celebrate. we caught up with her to ask just what goes into making her floaty fashions and if they're as much fun to design as to wear.




please describe your general design process from start to finish.  
i find inspiration in shapes, both in nature and architecture, that get me thinking in the context of balloon couture. i always keep my sketchbook handy so i can remember ideas. when it comes time to make a balloon dress, i flip through my sketchbook and decide on a design. sometimes i create a mood board, many times i don't. what my idea for a dress looks like on paper/in my mind will usually look a little different than what the end product will look like, though. i stay open to the idea of change as ideas and shapes evolve throughout the process of making a dress.
i always do the photo shoot before the event or going out in the dress, because minor popping is inevitable and laborious to repair. going out in a balloon dress is one of my absolute favorite things to do in the whole world.



what has been one of your favorite projects?
one of my favorite projects probably has to be the balloon fashion show that i produced back in march. i made eight looks completely out of balloons, and my good friend and body painter elsa rhae added her makeup flair to coordinate with and compliment my balloon aesthetics on each of the models. it was a crazy week of trying to make all the looks and organize everything for the show, but i pulled it off. at the end of the show, the runway derailed into the perfect dance party, which seemed like the most fitting outcome. stay tuned for my next fashion show; i'm planning another in the future.. :)



who in your wildest dreams would you love to put in one of your creations?
model-wise, i've always wanted to create a custom look for gaga, obviously. but more than that, i've always wanted to collaborate with jeremy scott (who shares my birthday!) on a fashion show. his inherent color palette and beautifully obnoxious use of pattern and detail has always resonated with me. that's the dream. i do find humor in the fact that i've entered the fashion world through such an unexpected and roundabout avenue of balloons.
follow @mollyballoons
interview by julia popescu