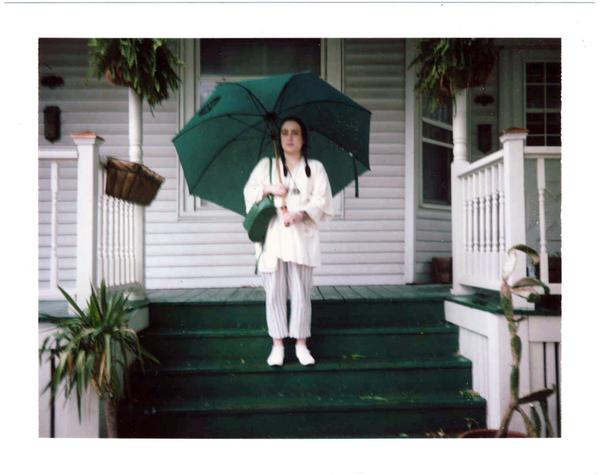 lakeside voyage
delcey goes to milwaukee, the city of festivals, for just that. summerfest is her main draw, but friends and food are a big part of the attraction. she brings us some shots of friends and festival-goers.

delcey at sumerfest in milwaukee
 
destination: milwaukee
purpose of journey: to visit friends and see ggoolldd play summerfest (my friend's band).
never travel without: a couple of extra outfits and lots of jewelry. i packed 6 outfits for a total of 3.5 days and brought a huge bag of jewelry.  
favorite outfit you packed: cotton pajama-style pants with a 1920's cotton oversized shirt, repettos, an amethyst necklace and amethyst bracelet. it was a casual and super comfortable outfit and i actually ended up wearing it twice while we were there.
my favorite item i brought was a short, silk white kimono that i wore as an extra layer during the day and as a robe in the mornings.
how many pairs of shoes: 4. 1 pair of sneakers i wore for traveling/airport, a pair of casual black shoes and a pair of casual white shoes, and 1 patent leather pair that could go from day-to-night.
what are you listening to: jamie xx (album: in color) and cut copy presents: oceans apart.
favorite meal: a super juicy pulled chicken bahn mi sandwich from bavette la boucherie. everything at bavette is milwaukee/wisconsin local and the chef does all of the butchering at the restaurant. we also had some really good spicy wings at a bar called club garibaldi's.  
highlight of the trip: hanging out and reconnecting with my friends thomas and ahn, who moved to milwaukee from new york, and meeting their friends, giving me an authentic taste of milwaukee.
we went to summerfest to see my friend's band play, but we also went to a little street music festival in my friend's neighborhood that was sponsored by pabst that I really enjoyed! it was free to get in and it painted a really friendly picture of that particular neighborhood (bay view) and of milwaukee.



standing on the steps of my friends super cute house.


my friend's house

exploring the neighborhood

exploring downtown third ward on the water's edge

 at a bar called barnacle buds, which is located on the water.  boats can pull up
and dock right at the bar.

night view from barnacle buds (also jupiter and venus aligning).

thomas skipping rocks on lake michigan

tourist shot at lake michigan

dorian and thomas on lake michigan

summer fest

margaret (lead singer of ggoolldd) reaching for fans

thomas at burnhearts/pabst street fest

ahn at burnhearts/pabst street fest

nicholas and margaret of ggoolldd at burnhearts/pabst street fest

in the back after burnhearts street fest.


follow delcey on instagram @ddeellcceeyy