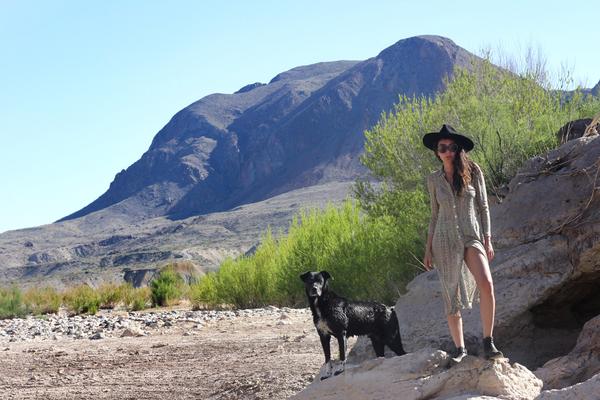 lone star
my sister's dog two socks aka her 'george clooney'

from the music capital of the world to the deserts out west, aisha takes us on a trip through the lone star state.

destination: texas

purpose of journey: a wedding in austin, a road trip out west for my sister's graduation


donald judd's 15 untitled works in concrete, 1980-1984
the chinati foundation, marfa


terlingua


never travel to the desert without: gallon water, moisturizer, and sunglasses
favorite outfit you packed: my last minute/late night packing was a bit of a bust. the different celebrations and climate made it tricky. i checked a bag so i could bring everything. my father's shirt from the 70s with leather pants, vintage boots, and a stetson were my favorites. however, the real mvp goes to my bestie janelle who packed for the both of us for our west texas road trip.


terlingua family portrait

that's my best friend

mine shaft
ghost town
they don't make sh*t like they used to

how many pairs of shoes: 4: helmut lang babouche slides, vintage pointed wingtip chelsea boots, ld tuttle pointy platform booties and tevas.  
what were you listening to: on the 7 hour drive west, janelle and i were trying to stay awake and avoid hitting animals on I10; we listened to hexhop, beyonce, anderson paak, future, robin s and soul II soul. in my sister's truck, it was early bob dylan on cassette, on her porch she'd sing and play her guitar, and that was better than anything else.



muddy waters
sister

walking the line, alpine


rust
favorite meal: there were so many! miga tacos at maria's in austin hits the spot (went straight there from the airport). the grilled salmon with veggies and scalloped potatoes at the wedding were perfect. hibiscus margaritas, anchovies, watermelon radishes, cheeses, bread with rosemary ash olive oil at the capri in marfa were sensational. my favorite dining experience was my sister's graduation bbq, the family threw down: lobster, steak, salad and margaritas.


mama

1836 mi -> elmgreen and dragset / valentine pop. 132
after the rain
 highlights of the trip: spending time with my family and friends. going out in austin, hot tubbing at el cosmico, hearing my parents tell stories about our childhood, swimming in a mud-river in the middle of the desert, taking photos, listening to my sister sing and play guitar (and her dogs howling at the train).   

sweet stud
love him
el cosmico
follow aisha and her journey's @morethanlaundry
photos of aisha shot and styled by janelle