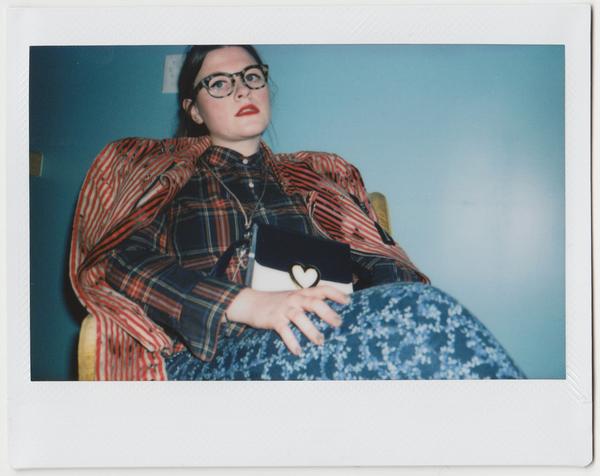 mixed up - styled by nina
nina, of our bushwick store, has a love for textiles and materials that manifests in her playful print-mixing style. she piles on stripes, plaids and florals, producing a look that is all energy.

you look like you have a bit of a theatrical side. what is fashion for you? (e.g., is it your armour? a chance to try new personalities? channel an icon? etc.)
oh wow, thank you! i don't often get that! i think it's a little bit my armor, a little bit a chance to show different aspects of my personality...but mostly i like it as a continuation of self-expression. wearing three types of polka dots makes me feel good.
what's your inspiration behind the shoot? and what's the story with that metallic jacket?
well, i'm irrationally embarrassed by getting my picture taken so i figured that my best bet would be to wear my all-time favorite outfits, in my favorite place (my house), shot by my boyfriend. the story with that jacket is that it might be my dream jacket! i found it at beacon's and wore it for like, the following five days.


how did you first get interested in clothes?
my grandma is the most glamorous woman in the world and a grade-a bad ass. i saw her clothes as an extension of her, and her badassery. then i just started watching runway shows like hussein chalayan and nicolas ghesquière and was blown away by the artistry of what they were doing. 

what's your favorite decade for fashion and why?
oh jeeze, i'm inclined to say the 60's but actually i think the current decade might be my favorite. people are doing such amazing things with innovative materials and treatments in textiles and wearable technologies. it's just amazing. even the iwatch is making my star trek dreams come true.

interview by julia popescu