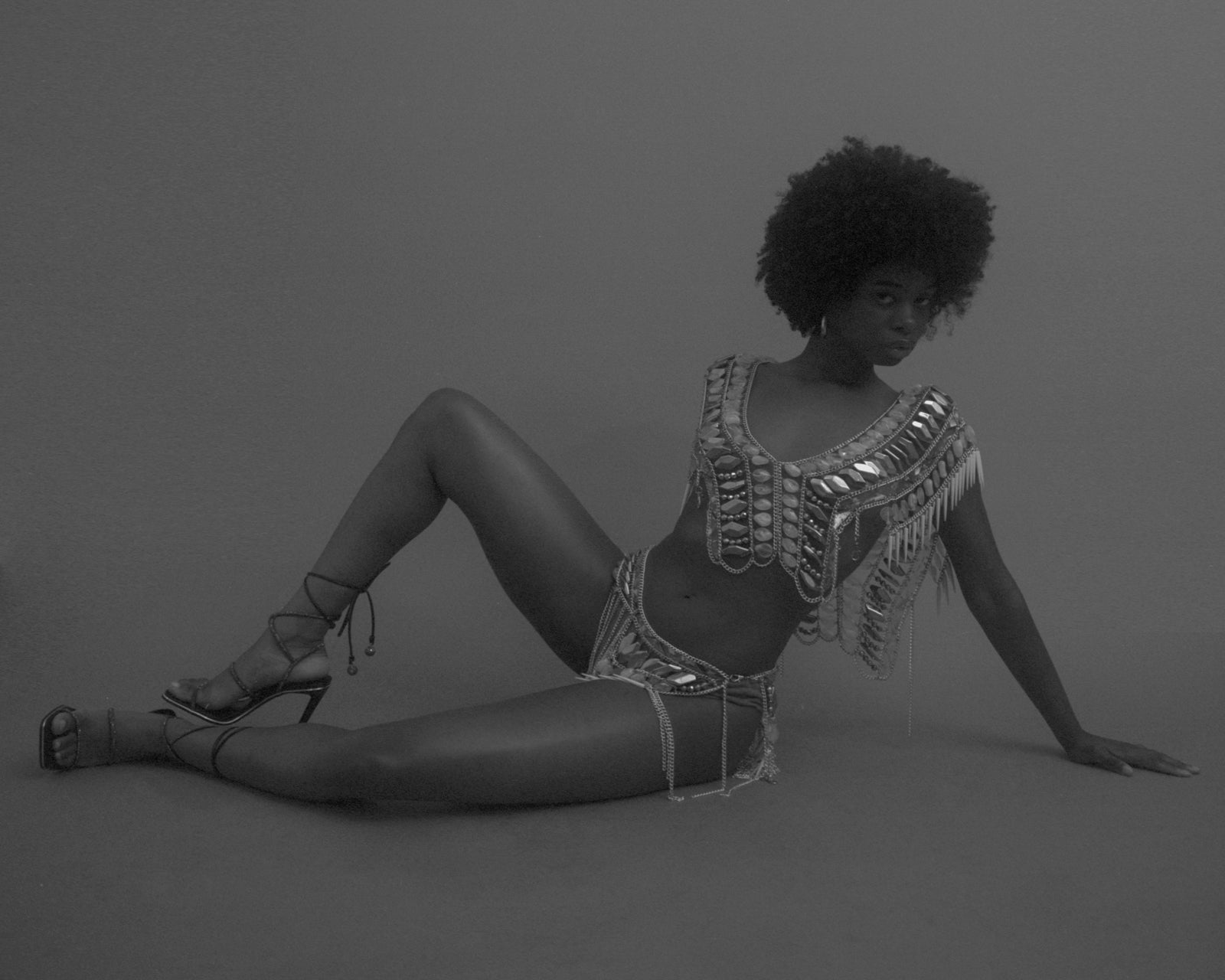 bipoc creatives: niambi moore
artist niambi moore tells compelling stories through styling and creative direction that may otherwise fly under the radar. 
what inspires you?
i get a lot of inspiration from nature. i'm in awe of the beauty that naturally occurs on earth, from the colors to the shapes that can be found organically. i really enjoy studying flowers, i think they're so stunningly beautiful. i enjoy looking at the sky as well. the sky is visually interesting both night and day, but i'm also inspired by outer space, the moon, the planets, and how it's all so unknown to a majority of us. 
tell us about your journey as a creative.
i was always a creative person from a young age. i grew up in dance studios as my mom was a dancer and she always recounts how i would tot around trying to keep up with the choreography. as i grew into my own creativity, i fell in love with fashion and would enjoy manipulating my clothes to fit an aesthetic i envisioned. i was fortunate to attend schools that nurtured my creativity since middle school, and even though my mother encouraged me to focus on the business side of things, there was no way i could completely focus on crunching numbers for a living. i continued to study art and art history into college and fell into styling through various internships where i was introduced to the profession. i snagged an internship at albright fashion library, a renowned showroom in nyc, where i was meeting people at the top of their game. from there, i met carlos nazario and his team and snagged an internship with them where i learned the key skills i needed to be successful in the fashion industry. right now, i'm in a space where i'm prioritizing community and collaborating while i experiment with new ways to tell a narrative through images.
what or who is currently influencing your work?
right now, i'm watching a lot of cinema. i didn't grow up watching movies, so a lot of references go over my head. so i'm watching a lot of iconic films and taking what i can from it from the lens that i have now, which is really interesting because a film that was released 20+ years ago was received very differently than how it would be received today. 
how did you first get interested in your field?
when i first enrolled at fit, i majored in exhibition design and visual presentation. it was cool, but i wasn't completely feeling it, and then on top of it, that particular industry wasn't somewhere i saw myself represented in. fit did a great job of immersing their students in the industry, but upon visiting offices at saks fifth ave and other iconic department stores, all i saw were older, white men. so i figured fashion styling would be a great transition. it incorporates the favorite parts of what i was learning, but i felt i would have more control over my career in fashion styling and so far, i have been proven correct in my decision.
what is a style/trend that is exciting for you right now?
i'm the type of girl to plan my birthday looks about 6 months in advance and i'm a summer baby, so this year i wanted to give birthday suit. i want to go as close to nude as possible - so i'm excited to see a lot of sheer looks be a trend right now. i'm also enjoying #aaliyahcore. even though it's so different from my personal style, i love to see a black woman have such a distinct point of view and know what she likes and just throw it in everyone's face. it shows the range that we have as black women because people want to desperately put us in a box.
what's next in terms of career goals?
i just want to keep growing, i never want to feel like my career is getting stagnant. i'm working really hard to fine-tune my specific aesthetic. i want someone to look at my work and know, niambi worked on this. i also want to normalize being a multi-hyphenate and excel in all of my interests including music and design. and lastly, i want to win an oscar for styling work i do for a movie.
follow @niambiedits