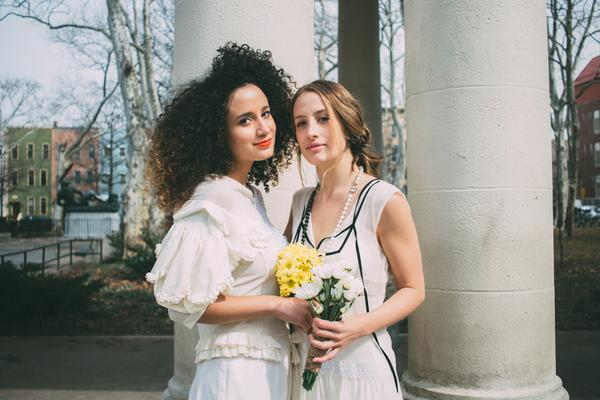 off-beat bride
wedding season is here, and if you're a bride-to-be reading this blog, chances are, you're not a traditionalist. the second-hand market offers the thrill of chance encounters with one-of-a-kind pieces, and an array of eclectic options.  vintage, or otherwise unique finds, can be inspirational for event themes, and since thrifting is also a budget-friendly option, this just sweetens the deal.
if taffeta, tulle, or white satin aren't for you, there are limitless alternatives for the modern bride. a pant suit, separates, anything in gray, asymmetric silhouettes or off-beat jewelry, are all easily shoppable options that are multipurpose, and wearable way beyond the big event.  since it's important to look and feel like yourself on your wedding day, maybe that means digging up that thrifted issey miyake skirt that you never found an occasion to wear. we say go for it!
we dressed rachel and sheyla in some bridal looks with some carefully-thrifted pieces and a little ingenuity. if you're planning on taking this journey, we hope enjoy your big day!
sheyla (left): ysl pants - comme des garçons top - reed krackoff shoes
rachel (right): chloe dress - altuzara pants - rebecca minkoff shoes



rachel: zara top - altuzara skirt - rebecca minkoff shoes

sheyla: 1990's lace top, 1980's bustier - helmut lang shoes

sheyla: dress and shoes unknown designer

rachel: 1960's dress - manolo blahnik shoes
styled by alta finn and nina lucey
photos by alex stewart 
models rachel zeiger-haag and sheyla de la santos