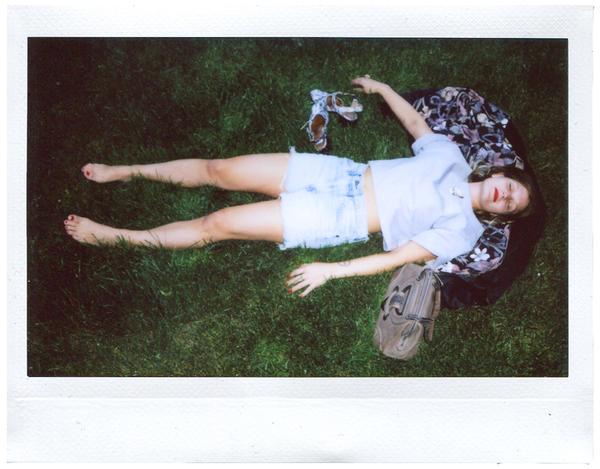 pattern recognition - styled by dana
dana sees the world in shapes and patterns. she translates this into her art and into her wardrobe. she talks to us about this symbiosis.
what do you do outside of beacon's?
i'm a graphic/textile designer and collage artist.


your approach to dress reminds me of your collages...the mixing of strong shapes and patterns to create this one big cohesive picture. what do you think about most when creating an look-print, silhouette, color, etc?
my personal style definitely mirrors my artwork. it's all connected. in my 20s, i dressed colorfully and quirky, and my artwork reflected that. now that i'm 30, i'm dressing in a lot of black and white and more muted colors. i love wearing mauve and seafoam green, and i'm obsessed with the dreamy blue hue of light wash vintage levi's. i use a similar palette in my textile prints.
i also feel really confident and feminine in high-waisted, wide leg pants. the silhouette of them makes me feel tall and column-esque, like i'm a part of the architecture of the city. i've been working on a series of collages in which shadows play a big part. a woman wearing wide leg pants makes a really great, bold shadow!

what's your favorite era for fashion and why?
i love watching films from the 60s, mainly because of the fashion. i'm especially enamored with the micro-mini dresses, striped shirts with jeans, and perfectly-tailored pea coats, all paired with tousled hair and thick black eyeliner. i remember watching belle de jour for the first time and thinking catherine deneuve was the most incredibly stylish woman. even as a prostitute, she kept it oh-so classy! i also love monica vitti's onscreen style in red desert. they both possessed this buttoned-up elegance, and at the same time were incredibly sexy.


what's a go-to piece in your closet? something you can always throw on and know you'll feel great?
my surface to air reversible bomber jacket. it's a men's jacket, so it's oversized and the sleeves are really long. it makes me feel tough and chic all at once. i usually keep it simple with the shiny black quilted side. but if I'm feeling like my outfit is looking a little bland, i'll flip it and wear the floral print side.




photos by  josh schwartz

interview by julia popescu