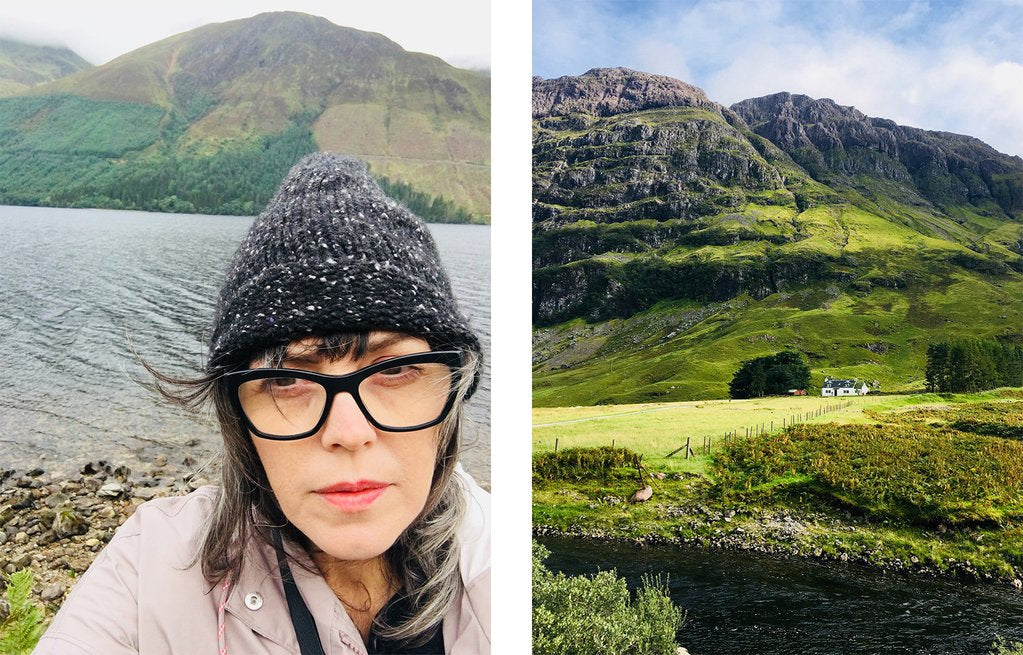 rip it up
 pink heather in the foothills of the highlands


beacon's co-owner cindy takes a trip to scotland to get in touch with her roots and attend the edinburgh fringe festival.

destination: scotland: edinburgh and the highlands

purpose of journey: to see the country that is part of my family heritage and to go to the edinburgh fringe festival
never travel without: emergen-c and fresh seaberry face oil
favorite outfit you packed: levi's baggy 501's, white linen shirt, cos black wool sweater, rose colored waterproof windbreaker for a pop of color and a rag and bone charcoal cashmere beanie. this trip was about practicality and comfort while traveling. scottish weather changes on a dime, from sunny warmth to bone chilling dampness - all in a day. it's about layers.
how many pairs of shoes: 3; vagabond trainers, palmroth waterproof chelsea boot, and flip flops
what were you listening to: the sights and sounds of scotland. i spent the better part of a day at the national museum of scotland's "rip it up: the story of scottish pop" exhibit. so many great bands were featured; jesus and mary chain, simple minds, aztec camera, orange juice, mogwai, delgados, strawberry switchblade, gerry rafferty to name a few!! music, photos, film, video, posters, guitars, costumes, other memorabilia, so good.
favorite meal: cullen skink in the seaside highland town of mallaig. cullen skink is a thick scottish soup made of smoked haddock, potatoes and onions. kind of like a new england chowder and it is freaking delicious.
highlight of the trip: there were 2; a city highlight and a highland's highlight.
city highlight: seeing pussy riot at the edinburgh festival. founding member maria alyokhina has a new book called riot days which chronicles the lead up to their punk prayer performance at the cathedral of moscow, her arrest, trial, and 2 year imprisonment. the performance recounts her story through music and theatre - part performance art, part punk rock show.. it reveals the brutality of the putin regime and is a cautionary tale of authoritarianism disguised as democracy.  
highland's highlight: taking a boat ride on the stunning loch ness to urquhart castle. the castle ruins date back to the 13th century and were a central foot hold during various points in scotland's history. urquhart was partially destroyed in 1692 to prevent it's occupation by jacobite forces. the dress act of 1746 attempted to bring the warrior clans under government control by banning the tartan, the kilt and other aspects of gaelic culture. the kilt and tartan were banned for almost 40 years.
pussy riot installations at summerhall arts center / punk prayer installations and paintings
pussy riot: riot days performance summerhall arts center / putin peed his pants, pussy riot- riot days
oh bondage!! vivienne westwood bruce of kinnard tartan anglomania autumn winter 93 national museum of scotland fashion retrospective
edinburgh castle / glenfinnan viaduct (as seen in harry potter)
the shores of loch lochy / little house on the peat bog
urquhart castle ruins / wildflowers and pink heather, foothills of the highlands