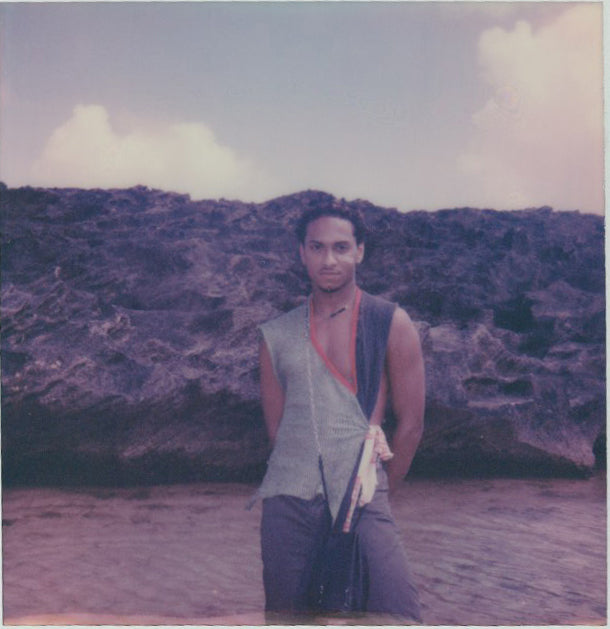 everything is charged - styled by jesus
bushwick manager jesus draws inspiration from their music, art and style. from low key cos-playing to resisting surveillance and other systems we catch up with this multi disciplined artist at home in the land of enchantment.


how do your music and style collide when you perform?
honestly i really love making a look for all of my performances, it all just needs to make sense, everything is charged. my recent sound performance had a lot to do with fragmentation, and blurring of identity to resist surveillance and other systems at play so i wore a deconstructed comme des garcon dress, that opens up in the front paired with a martine fracis girbaud deconstructed skirt to further this idea of fragmentation. 
in general as a dj, i tend to play more acid techno, hard techno, trance, hard trance, club etc. these genres definitely center around a futuristic aesthetic and i think that definitely translates to what i'm drawn to within my style as well.   
what elements of caribbean fashion do you like to bring back with you to the states?
i feel like i got a good practice run for my summer wardrobe in puerto rico. i'm definitely wearing the least amount of clothes possible this summer. i'm not sure if that is caribbean fashion, but everybody is always wearing really relaxed clothing, like a tank top with loose slacks. i'm definitely taking note from that, i love a wide legged pant with a tight fitting tank top.

what or who is currently influencing your style?
right now i'm really interested in andrea grossi, y/ project, 90s prada and miu miu, nasir mazhar, mowalola and maximilian. i really enjoy this tech-y new millennium, ancient future look. in general, sci-fi movies, raving and anime have always influenced my style --i've been low key cos-playing when i go out
follow @morenxx_x