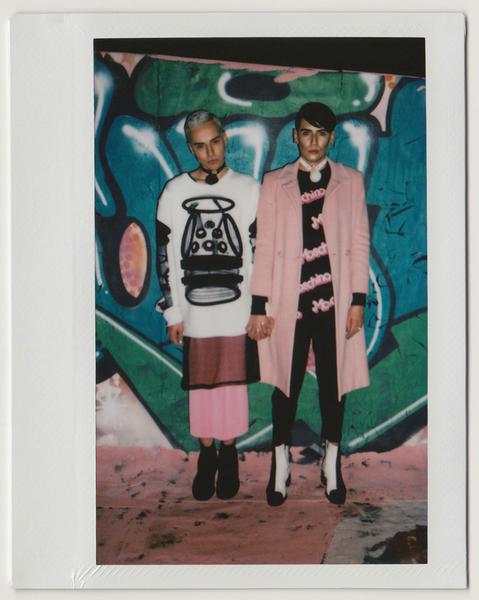 the dream house - styled by andrew and andrew


we're fawning over beacon's buyers and boyfriends andrew and andrew. not only do they share the same name, but they also share a love for clothes, pop singers and most of all, each other. 


andrew george in hood by air sweater, jil sander skirt, doc marten boots, pink louis vuitton tote, NAC equipment choker

andrew neal in moschino sweater, issey miyake pants, gianni versace coat, forfex x opening ceremony shoes
first of all, i'm obsessed with everything you guys ever post on instagram. in my mind all you do together is listen to rihanna and play dress up. true or false?
andrew neal: i'd say half the time that's true-we try to keep our apartment like a barbie doll house as much as possible. the other half of our time is either spent on working on things or getting ready to go out, but either way rihanna is involved.
andrew george: very true. if i don't listen to rihanna then i can't get pumped and have that attitude she exudes. she's bold, confident and wild. i love to experiment with my fashion and make up, whether i'm going out or eating chinese and watching friends reruns with andrew.
have you rubbed off on eachother style-wise?
andrew neal: i like to mess him up style-wise. i like adding a little bit of dirt to clean looks, like a different fabric or color. and without him i would look like a walking trash bag. he cleans my looks up.
andrew george: he adds more excitement to clothes. i love making a statement with sharp, classic pieces. it's all in the detail.

andrew neal (l):  pink vintage shirt, protagonist skirt, rihanna x stance socks, dkny gloves 





andrew george (r): moschino top, acne skirt, true to cast leather jacket, new rock boots, NAC equipment choker
what do you admire about one another?
andrew neal: i love that andrew is structured and always has a plan. i would be lost without him. he also inspires me style-wise when it comes to creating complete, impeccable looks
andrew george: he is open minded in his style and outlook on life. he constantly teaches me how to be a better person, to be kind and free spirited.

andrew george (l): rick owens tank, crystal martin pink top, margiela for h&m leggings, doc marten boots, NAC equipment harness 




andrew neal (l): bernhard willhelm jacket, jil sander skirt, prada shoes, vivienne westwood bag and ring, NAC equipment harness 



what IS it about rihanna??
andrew neal: i'm sorry, this must have been a typo, you do mean lana del rey, right?
andrew george: she is strong, determined, with an attitude of a boss. she lives life how she wants with no regrets and i think that's why i admire her. she inspires me every second to be more courageous.

andrew george (l): telfar white coat vest, jonathan horowitz x opening ceremony polka dot pants, pink chanel bag, NAC equipment hand harness





andrew neal (l) issey miyake sweater, versace necklace, pink louis vuitton tote
what was your first impression of one another?
andrew neal: when i first saw him on instagram (millennial lyfe) i was intrigued by his look. once i met him i realized he wasn't just an attractive guy with great eyebrows and cheekbones, but also a caring and hilarious person. he's also a sagittarius. like, how could it get any better than that?
andrew george: he was intimidating. my third eye couldn't read him. i don't know what it was but i was drawn to him and could only think about him. three years later and i still find more ways than i ever thought i could to love him.


lensed by nina carelli 
interview by julia popescu