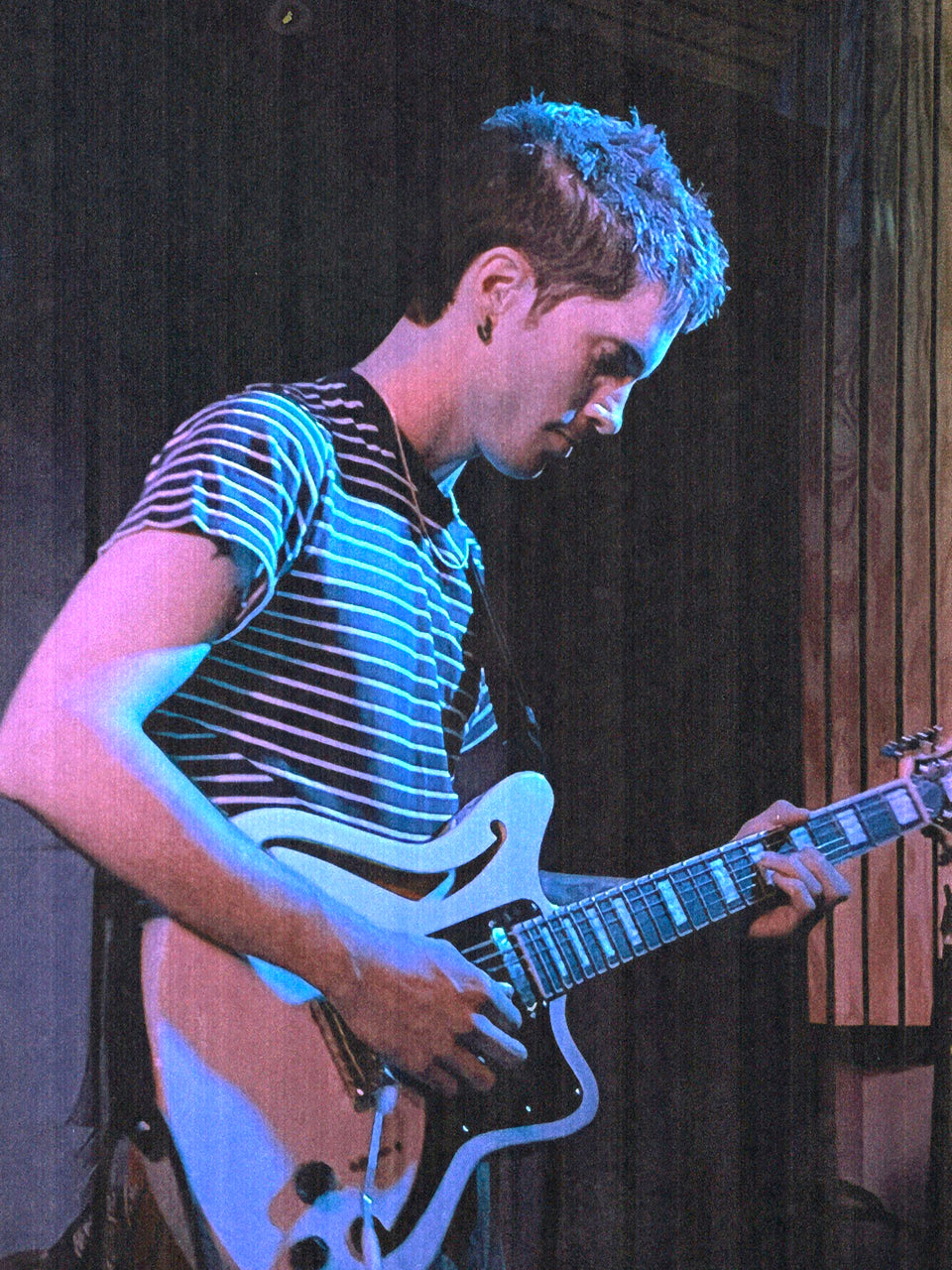 c note style with ok, tyler
musician ok, tyler puts together a look for his performance for this shopping budget challenge
describe your style.
skate clothing meets hand-me-downs from your older sister.
what inspires your style?
comfort always. if i can't feel comfortable in it, i'll pass on it. your clothes only look as good on you as you feel good in them. when i see someone with a solid fit, whether it be outrageous or something tame, i'm always trying to gauge if they appear to feel comfortable in it, or if they're wearing it like a suit of armor. when i see someone comfortable in their style, it influences mine. makes me wonder if i'd feel myself in a style, pattern, color, or fit that i wouldn't typically gravitate towards.
what was the inspiration behind this look? 
when perusing beacon's, i was looking for something fresh for a show my band and i had coming up. i tend to go towards looser fitting pants and shirt for performances, but the two little middle fingers on this tee hooked me. i also haven't gotten something more form-fitting in a while. i see other skinny ass dudes wearing tight-fitted shirts, but never thought it would be comfortable on me, but this one felt right! copped the necklace on the way out because i loved the contrast on the shirt. needed something silvery in my necklace arsenal anyways!
what or who is currently influencing your style?
two folk have influenced me heavily this last year. this random guy at cooper skate park in bk i saw this last fall who was looking ridiculously hot in just a wife lover and a pair of chinos (i actually wrote a song about him don't tell him). i told my friend, "man, i wish i could wear that. he looks so good, but i don't know if it's for me." my boy looked at me and said, "tyler, he's your height and body type. he's literally you. wear it if you want to, who cares" the next week i walked to a discount store and bought a pack of discounted / malformed wife lovers (the arm holes are different sizes and one of them had a stain but hey, i love a solid bargain) and a pair of dickies. it felt natural and comfortable so i added it to my wardrobe.
the friend above, kerry (makes music under his moniker f.s. chxll) . his style is ever-changing. he's always exploring something different and pushing the boundaries of what is complementary. i wish i could dress like him, but i'd be dressing like kerry, and not me. so when i'm out looking for clothes, i try to hunt through the lens of kerry. could we put a photo of one his fits on this? y'all gotta see at least one of em.
what meaning do clothes have for you?
i live with my heart on my sleeve. whatever sliver of the emotional spectrum i'm on, you're going to know it within the first few minutes of being in the same room as me. clothes let me mirror what i'm feeling. vulnerable? excited? tired? confident? my fit will reflect that. i think our choice of clothes allows us to give the world a glimpse into what we're feeling that day. if my landlord just raised my rent by $400 and i've got to go play a show afterward, i'm probably not going to be donning my colorful thrifted patchwork grandma sweater, ya know? or hell maybe i am. depends on the perspective!
how did you first get interested in clothes?
in high school, all my clothes were thrifted. i thought it was so fun to be growing up in rural tennessee wearing a girls softball jersey to school. i knew someone would scoff, "why are you wearing a girls shirt?" to which i would respond, "it's a girls shirt?" even though the name on the back was jessica and the design on the front was a bunch of gals standing up to bat. discovering that clothes could be used as a tool to push boundaries made me more intrigued into what i could buy. as a sophomore in high school, i loved wearing this one trucker hat that said, "lordy lordy i'm turning forty!" something about the juxtapositions of what was on the piece and what the piece was on was so fun for me. that kind of juxtaposition still influences my style today. 
earliest fashion memory?  
getting my older brother's clothes. i remember he gave me this one aeropostale shirt that was incredibly soft and loose fitting (see? comfort always) and had this cream-colored dragon on it. i wore that thing to school every day. if it was in the dirty clothes basket and wrinkly i'd toss it in the drier with a wet washcloth minutes before the bus came to get the wrinkles out. i was a bit of an outcast around middle school and this shirt was the only thing that made me feel like a dime piece. that's ok abby anderson, you don't have to think i'm hot, i know i'm hot.
what in current fashion is exciting for you?
making your own clothing has gotten to be so much more accessible. i played this art show in bushwick last summer and bought a shirt from an artist (that i'm wearing as i'm typing this actually) that has these awesome human cube formation prints on them. i got to talk to the artist (whose name i can't remember sorry i suck i know) and she walked me through the thought process and production process. it's just so sick that creative expression isn't necessarily limited to those with means anymore. i want my whole closet to be filled with smaller clothing artists and designers. we love unique and handmade! 
what are some (or one), of the most notable things in your closet? 
i was walking through midtown with my partner's parents this last winter and passed by a nyc gift shop. they had a shirt hanging up in the display window that was all black with white lettering that reads, "new york fuckin' city." absolutely loved it. went back a few months later and hunted all the gift shops to find the one that sold it. easily my favorite piece in my closet. lest we forget, it's new york fuckin' city, baby.
what's your strategy when shopping at beacons? 
start with the shoes if you're looking for em. those are the hardest for me to find something in my size. next is pants/shorts for the same reason. the final stop is shirts, more flexible in what fits and doesn't. 1. shoes 2. pants/shorts 3. shirts. then if ur feeling spicy get a fresh pair of socks.
silver necklace: $19.95 / unlabled striped tee: $18.95 / ll bean corduroy's: $29.95 
total: $68.85




 photos by mutuals agency